The Hong Kong Performing Artiste Guild held a charity gala show at the Hong Kong Coliseum last night for the Yushu Qinghai China earthquake victims, Jackie Chan, Andy Lau, Jacky Cheung and close to 300 artistes participated. Only one hour of the gala show passed, the donation accumulated close to HK$9 million, the total amount of donation collected at press time total up to HK$25 million.
The 600 strong audience had to donate at least HK$100 and the organizer added 1000 seats a the last minute. The gala show was hosted by Carol Zheng, Eric Tsang, Wu Xiaoli and Lawrence Cheng. At the opening, 300 artistes sang 'Shou Lian Xin' (Hands and Hearts Together). Andy urged all artistes to raise their right hand and all obliged, it was a touching scene. Run Run Shaw, the owner of TVB and Shaw Organisation donated HK$100 million as the Yushu rebuilding educational funds.
It was a star-stubbed event, divorce couple Ronald Cheng and Charlene Choi also attended, all the 4 heavenly kings Andy Lau, Jacky Cheung and Leon Lai attended except Aaron Kwok whom was still location shooting in Beijing was unable to rush back in time. Leon urged: "Other than donating to rebuild, I suggested that the more earthquake prevention measures like anti-earthquake supporting should be installed, precaution is better than treatment, it could minimize death."
Andy whom was currently location shooting in Mainland China specially applied leave from the crew in order to perform in the gala show. Andy lead a group of young singers (birth date after 1980) to sing 'Cheng Nuo' (Promise) as they hope that natural disaster would not appear again.
Andy revealed that earlier he was shooting the burning of Shaolin Temple in Mainland China thus he was unable to apply leave to join in the discussion of fund raising events, but he still kept close contact with Eric Tsang, he feel that the organising team had done a good job. Andy's Andy Lau Charity Foundation had already made donation through different channels to the victims.
When asked if he would go for on-site visit, Andy expressed that he would see if it's required as the rebuilding would be a long process.
He would be performing in the upcoming Expo 2010 Shanghai China, when asked about the copying of the opening song, Andy thinks that the organizer had handled the incident very well as they immediately bought the Japanese song copyright as they have knowledge, high respect and responsibility of copyright.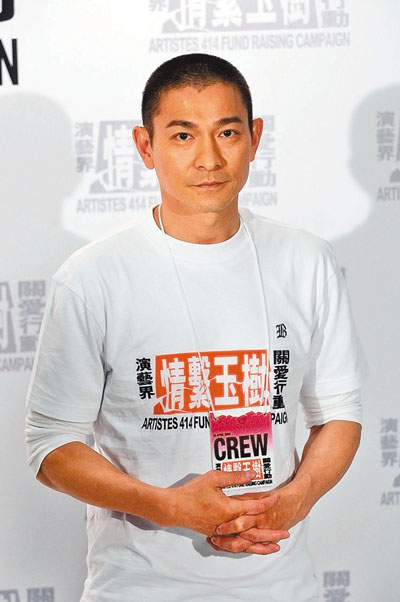 In addition, he was nominated to be the vice-chairman for China Foundation for Disabled Persons, he expressed that after accepting the acceptance letter from the chairman Deng Pufang, he feel that he had huge responsibilities and hope that everyone should do a part for China Foundation for Disabled Persons, help those who needed help, believed that after the earthquake, there would be some disabled that need to be taken care of.
news from: Apple Daily News, Ta Kung Po, Wei Wen Po, ent.163.com, Ming Pao
---