Andy Lau seldom talked about his love life, other than his marriage being exposed last year and the holding hands appearance with wife Carol Zhu Liqian at the airport, he had since kept his marriage life a secret but when he was interviewed via telephone for the promotion of Future X-cops, he still avoid the words "wife" and "Carol Zhu Liqian", when talked about his family and wife, we can sense the blissful in his words!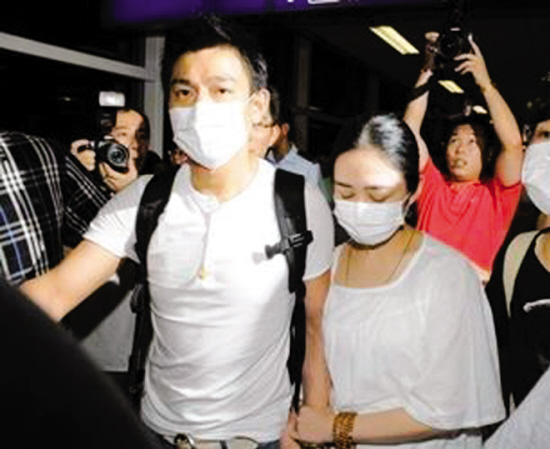 Andy's marriage was exposed last year and was given the tag "Lying Heavenly King" at some stage, now the fans had accepted him allowing him success in family and career. 48-years-old Andy exclaimed that he is doing well as he said: "Close to blissful. Who know how blissful feel like? But it's very near, I'm satisfied."
He does not expect much and always looked on the bright side, "This world is not perfect, I'm able to be together with the person I love, those whom love me are closer to me, my fans also supported me. The media treated me well, I'm very thankful. I've a bright future, haha, that's very good!"
With regards to his family planning, he said: "Many thing let nature take its own course, because the future is unknown, should get along well with those beside you, love those people you love, do well in your job. I think need not spend too much time to think about this." It seems that he's hinting to let nature take its course on whether he would have children.
Andy is a hero from the future in Future X-cops, when asked if he is a "hero" among the eye of his family members, he said: "I can give myself a family member with a pass grade, but not a hero." The reporter asked: "What does it means by pass grade." He added: "To be able to protect my family," it seems that he does not wish to talk more.
Artiste always finds love relationship complicated as it's death when it comes to light, Andy and Carol are not a couple for 20 years but also got married, when asked how he kept his secret, he stopped for a while before smiling to reply: "This I'm not sure. (But you did a nice job!) I…not convenient to answer!"
Andy had been working very hard in showbiz and said that he would not stop, becoming a husband, will he slow down his pace and shift his focus, spend more time with wife?
Andy quipped: "Do you think I treat my family badly? For so many year, I treated my family very well, whatever my decision in future, they would be happy."
It was reported recently that after finishing all his jobs at hand, he plans to move backstage two years later, he clarify: "That time, I'm saying that I will completed my contracted jobs on hand within 2 years, then I will decided which direction I wanted to go two years later, maybe I'll act, or do a musical. When the news came out, it become that I'll retire in 2 years time!"
When asked did he plan to relief his role as an artiste, he said: "I don't know, but it seems that everybody think that it's tough for me to be an artiste! For an artiste to have an achievement like me can't be considered as bad, correct?"
Currently, Andy is still enjoying life and his career, "I need not set a time for myself, because life has unlimited space. I don't want to limit myself."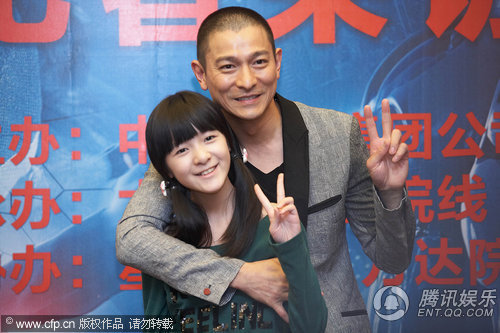 Xu Jiao was his daughter in Future X-cops and Andy was all praise for her as she is considered as more mature when compared with children of her age, she is also very accommodating when working! He said: "When she's able to collaborate with Stephen Chow, I surely know that she would be accommodating, because it's not easy to express comical and some inner feelings together."
When asked if he would followed Stephen to make Xu Jiao her god-daughter, Andy quipped: "I treat her as my friend, I never see her as a child!" Andy added that he had collaborated with children in his commercials and charity events, thus he know how to get along well with children.
With regards to Barbie Hsu taking at him as idol, Andy quipped that it does not affect their collaboration, Barbie is also very professional, he added that Barbie is not a "vase" in the film. "I discovered that everybody only comment on the beauty of Barbie and Fan Bingbing and neglect their acting, actually both of them wanted to improve on their acting thus they did their best."
Future X-cops being touted as the first Chinese science fiction film as there are many dangerous and special effects enhanced scenes. Andy expressed that the film cannot be comparable to Hollywood production but it can be considered a good science fiction Chinese film, "Hope that everyone would watch it in the cinema and give some developing space for Chinese film, if not it would be impossible for a Chinese version of Avatar to appear."
He said, other than the special effects bringing excitement, his human-to-human relationship with Fan Bingbing, Barbie and Xu Jiao is also a selling point of the film.
Having collaborated with Wong Jing for many years, they had the chemistry there, he said that although Wong Jing films are not the best, but they are easily mistaken as lack of artistic, "I don't dare say that this film is a great film but it's worth watching!"
Andy braved his exposed marriage incident to promote the film in Mainland China and Taiwan, when told of the good box office takings in Mainland China, he was touched. "We lose out when this film is screened straight after Avartar, but after the film opened in the cinemas, the number negative reviews went down, people seems to accept it."
What touched him the most is the fans support, "In the past one year, everybody is worried what will be the reaction towards my film…. thus I'm touched, many thanks to all of them!"
When asked if he would promote the film in Malaysia, he quipped: "There are only a few cinemas screening this film, thus the distributor had gave up the idea of inviting me over. Haha! I can only depend on my own website to recommend to everybody!"
When asked of their "caring father" and "daughter" relationship, Andy quipped that they are good friends, "I'll teach her how to face the public, a child is still a child, she is more mature."
news from: China Press
---