In the afternoon of 27 March, Andy Lau, Xu Jiao and director Wong Jing arrived in Chengdu for the promotion of their new film Future X-cops.
At the press conference, the ever popular Andy did not escape the screams from the 100 present reporters as his appearance immediately become the focus of the media, some of the present fans even shouted out loud: "Andy, We love you!"
Andy exclaimed that he took up the challenge of a "caring father" in the film, it's a refreshing experience for him to take up this handsome and full of responsibility father image, even when his "daughter" Xu Jiao addressed him also sound so close. Xu Jiao said: "Andy is very nice to me, when shooting in Beijing, the weather was cold, he gave me more clothes because I was not wearing much during shooting."
Andy quipped that he accepted this film because "little beauty" Xu Jiao would be his daughter. When asked by reporters if he experience father-daughter love in real life, he said: "Father-daughter love? I understand from the relationship between my father and sister. (Have you thought of having children?) Of course, but now I don't feel like to disclose anything with regards to my family."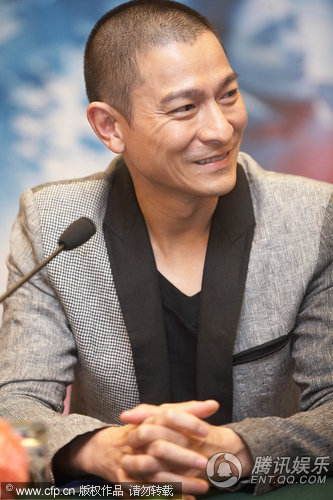 When discussed if getting married secretly would affect one's trust? Andy exclaimed that he would not live for anyone that does not believe in him, he's still the same man, nothing had changed. Andy then talked about Nicholas Tse whom always urge him not to work so hard because he has a family and not alone.
Andy whom had collaborated with Zhang Ziyi was asked about her recent charity donation allegation, he said: "Zhang Ziyi is a good person. Maybe she did not notice many things, after this incident, she should put more efforts on her own matters, please give her more time. Nowadays artistes would be worried when doing charity, I don't like to see this and please don't give pressure to artistes."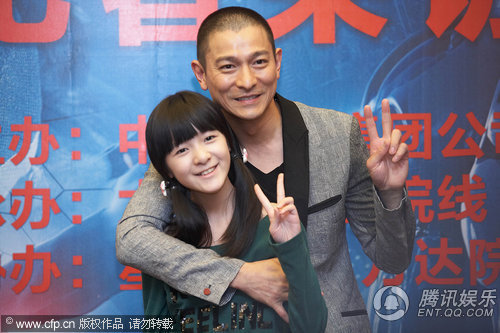 Director Wong Jing is full of confidence for the film, being Mainland China's fist science fiction film, he collaborated with top notch action director Ching Siu Tung and special effects post production team of Harry Potter and 2010 fame. From understanding, the film took 5 years to prepare and 3 years to produce, working on a budget of $1.5 million, the film has more than 900 special effects scenes, it could be the film with the most special effect scenes in Chinese film history.
Wong Jing said that 20% of the budget was spent on special effects. With regards to remarks of all films of Wong Jing are lousy films, Andy said: "Whether the film are good or bad, hope you can comment after watching it, if the comments are fair, we'll accept it."
Andy revealed that he's currently busy with shooting, his new album will be released during the summer holidays and stage his concerts in Hong Kong during December. If time permits, he will stage his concert in Chengdu in 2011.
news from: Sing Tao News, Ming Pao, ent.163.com, scol.com, ent.qq.com
---