Heavenly king superstar Andy Lau had not stepped onto the stage in Guangdong for more than 10 years. Finally in 2009, he's back with the brand new "Wonderful World" performance. On 20 March, Andy Lau's Wonderful World Mainland China concert tour will arrive at Guangdong's Olympic Stadium, on 1 April it will switch to Foshan Lian Century Stadium, the audience will be able to enjoy the charisma of the heavenly king among his classic songs.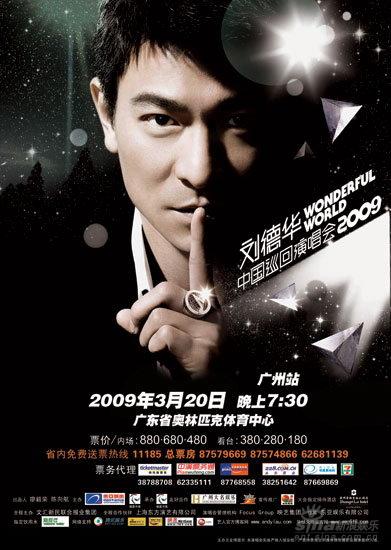 It is known that for this concert tour, a total of $70 million is invested, Andy had prepared this for a long time in order to present his best to the audience. No matter the stage design, production, costume or sound system, a perfectionist Andy did not miss out any details as he want everything to be the best in order to give audience the best enjoyment. For a wonderful world stage effect, the production team invest heavily for the world's most advanced sound system which included the huge LED screen imported from Japan. The LED screen is able to follow the stage effects to combine with it, their perfect combination will make the LED a background for the stage.
At the opening, Andy will be dressed as an astronaut landing onto the venue, this effect will be shown on the giant LED screen, this is the first time in Chinese concerts. In addition, the side of the stage will be extended, together with colorful light effects, surely it will give the audience a stunning experience.
When come to songs, Andy will be share with fans his best songs. He would be singing 'Nan Ren Ku Ba Bu Shi Zui', 'Ben Xiao Hai', Bing Yu' and 30 other classic songs. Among the classic songs, he would also sing a few new songs which was included in the new album recently released on Valentine's Day. Andy hope that he would be able to sing I Wish as he wanted to give his love to all Guangdong fans.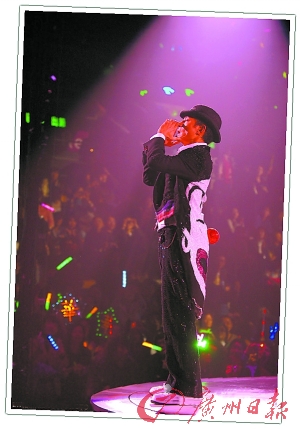 Other than classic songs, Andy will also include magic performances and dances. One thing to mention is that the dance choreographer is Hong Kong dancing circle well known Mui Cheuk-yin, Mui will be using her famous "walking between modern and traditional, western and oriental" style that she had performed in numerous international dance festivals. Under her guidance, Andy will be presenting his "new dancing king" charisma.
When talked about the theme of the concert, Andy called it Wonderful World because he wanted to bring a perfect beautiful world to everybody. Andy revealed that Wonderful World is his own wish as he hope to use this to present his blessing to human and earth, showing off high tech stage technologies, experience space travel journey, also symbolize the world entering a brand new world, he will show off all his skills in the more than 3 hours concert as he recall the exciting moments in 2008. These includes China's first space walk, Beijing Olympic Games and others. Despite the current economy downturn, Andy hope that through this concert, he would share his optimism and never say die attitude to fans, encourage them for a new beginning in the new year, be more optimistic of their own life!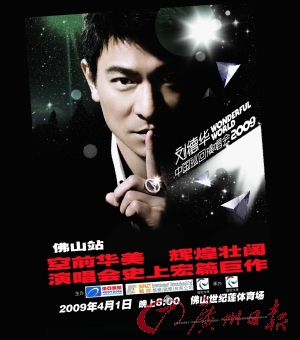 The Wonderful World concerts kick off in Hong Kong at the end of 2007, the 16-nights shows broke the record of total sold out within 2 days of ticket sale. With regards to this, Andy expressed: "For 20 years all of you have supported me and endured me till today, I suddenly find out that my career is like this stage, on this stage, there is you and me, together everything we walked through these 20 years."
The Andy Lau Wonderful World concert in Guangzhou and Foshan will be produced by experienced Guangzhou Yao-Star center, advance concert tickets booking had already started.
news from: Sina.com
---