Two nights ago, Andy Lau, model Du Juan and Japanese fashion designer Yohji Yamamoto were the ribbon cutting guests of Y-3 new store opening at Tsim Sha Tsui.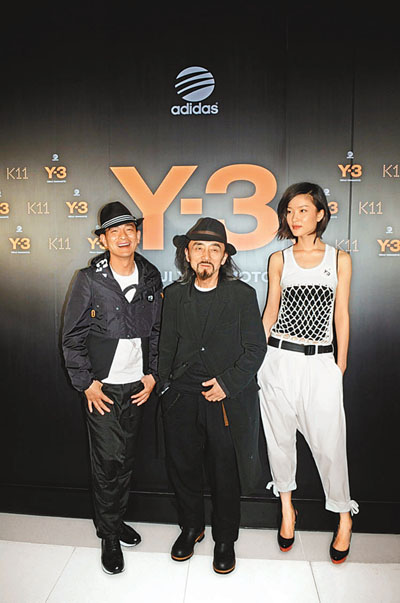 Andy whom was wearing branded quipped that he just rushed back from the Expo 2010 activities in Shanghai. He seldom attend fashion label activities, he expressed that he is good friend with the Hong Kong distributor of the brand thus he came to show his support. Many fans came to support Andy as they shouted loud to cheer their idol when they saw him.
Andy managed to discuss many movie matters with Yohji Yamamoto in the backstage area as he quipped that they discussed of the possibility of collaboration in films.
With regards to the current Stephen C.W. Chan corruption case, Andy expressed that he didn't follow the news. He was rather familiar with him as he appeared in his talk show in 2006, thus he wished that nothing would happen to him.
When asked if could consider him as a one member of the "Stephen C.W. Chan fan club", he exclaimed: "I started off with TVB, every crew members in TVB get along fine with me. I'm not sure if I considered myself a member of Stephen C.W. Chan fan club. (Do you know Stephen's assistant Cong Pei Kun?) I don't know him, I never worked with his company."
When asked about Stephen's saying of "Truth cannot be false", Andy quipped: "I once said these words in a digital commercial."
With regards to Ronald Cheng broke off with Charlene Choi, Andy sighed that breaking up has no choice, it was said that both of them registered their marriage in America six years ago, he was asked if they should admitted the allegation as he experience this before? Andy said: "Don't go backwards!"
Although Andy did collaborate with Charlene as she look up Andy as her idol, but he knew nothing of this matter, he only know about it from reading the newspaper. When asked if Charlene talked with him about her love matters, Andy said: "Nope, when I collaborate with her I didn't know that she's in a relationship."
After the opening, they went to the label's Summer-Spring fashion show at Wan Chai. Other guests in attendance were Eric Suen, Jessica C., Wylie Chiu and Candy Lo.
news from: Ta Kung Po, Headline Daily, Hong Kong Daily, Wei Wen Po, Sing Pao, Sing Tao News, Ming Pao, Apple Daily News, Sina.com, ent.163.com
---