Directed by Wong Jing, Future X-cops which has a cast of Andy Lau and Barbie Hsu. In its earlier promotion, it was said to be the largest Chinese science fiction film in recent years with a budget of US$20 million, the budget came from 8 investors which are Wong Jing's Mega-Vision Pictures, China Film Group Corporation, Tsai Sung-lin's Scholarship Global Multimedia Co., Ltd., Hualu Baina Movie Co.,Ltd. , Beijing Ciwen Digital Oriental Film & TV Production Co., Beijing Chengtian Zhuhong TV & Film Production Co., International Data Group (IDG), Huaqiang Fantawild and Or-Sun Film Production Co.. Wong Jing fully devoted to the film as from preparation, to shooting and post production took him more than one year.
In earlier interview, Andy once said that he had not collaborate with Wong Jing for 10 years, they wanted to repay the kindness of one of the investor Tsai Sung-lin thus they collaborate to shoot Future X-cops. Andy sing praise of Wong Jing putting in a lot of effort to accommodate the shooting with the special effects, it's a Wong Jing film that's unlike Wong Jing, however the screening suffered many setbacks, it's alleged that one of the investors redraw resulting in in-sufficient funds causing poor special effects, affecting the screen date.
Future X-cops was originally scheduled to be screened during the Chinese New Year holidays, due to the special effect unable to complete in time, the date was postponed. It was alleged in Hong Kong that one of the investor Tsai Sung-lin had gone missing resulting in-sufficient money to complete the special effects, the leaked video of the film in the Internet also show that the special effects is not up to mark thus the screen date is delayed again.
StarsWok spokesman Choy Ka Wing, son of Tsai Sung-lin clarified the allegation expressing that the leaked video is the uncompleted version thus not up to mark, the delayed screen date is due to post production yet to be completed. StarsWok also confirmed that Andy and Barbie would be coming to Taiwan to promote the film. The film is scheduled to be screened on 15 April.
Another report managed to contact Tsai Sung-lin and he appeared shocked of the allegation that he went missing, he said: "Everything is normal, I had been working 18 hours each day after the Chinese New Year, the cew members can confirm this, since when I went missing?"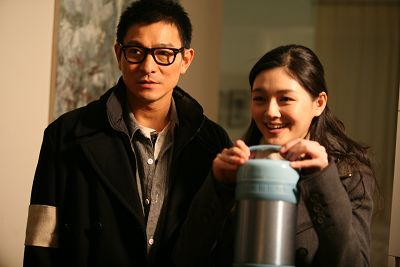 When reporter rectify the matter with Wong Jing, he accepted a long-distance call interview, he said: "I'm currently in Beijing and heard of the allegation, I will fly back to Hong Kong tomorrow and will make an announcement to clarify everything." When asked if he contact Andy whom was location shooting for New Shaolin Temple in Mainland China, Wong Jing expressed that he had yet contacted Andy. When asked if these negative news affect his feeling, he sighed: "I don't about them." With regards to whether he still have confidence in the film, he said: "Of course, I'm confident."
news from: Ming Pao, udn news, yule.sohu.com
---