Andy Lau had gone through several ups and down in 2009, first Carol Zhu Liqian's father pass away in Malaysia, with media reporting the news for several days hoping to take a photograph of Andy's attendance; followed by his marriage registration which result the 20 years of good image managed by Andy gone in a night, leaving him to face all these difficulties on trust.
Into the new year, Andy had gone through all these unhappiness and difficulties, he feel that being a husband, he only need to explain to his wife, "whether am I a good husband is to hear from her, it's alright if she feel it."
Andy's ideal wife is Cherrie Chung
When talked about the word "wife", Andy did not mentioned about Carol directly and instead talked about his old silver screen partner Cherrie Chung. Being an actress whom does not cook, Cherrie collaborate with Andy before her marriage, she was always reading recipes books to learn, she then said: "Being a wife must know how to cook." There was a day when Andy asked Cherrie to go for a game of badminton as this could lose weight to become a slim bride.
Cherrie replied: "I'm already someone's wife, no need to slim down…." For Andy, Cherrie is an example of an ideal wife, she also resemble Andy's first girlfriend, did he ever consider wooing Cherrie? Andy deny immediately: "Nope, I already have a wife. I got to know my first girlfriend when we were playing volleyball during schooling."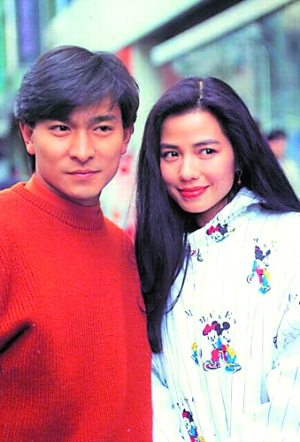 Being a father to educate "daughter" the way of human
Andy once wrote in his blog that he would like to go through artificial insemination in order to become a father. There were several allegations that Carol is pregnant, although it's never confirmed but actually Andy has the quality to become a father as he is very patient with children. During the chat, he mentioned that he encountered a "little devil" during shooting, he was very mischievous, when asked him to eat he would said that he wanted to bath, Andy struggled with him for 30 minutes.
In his new film Future X-cops, he got to collaborate with Xu Jiao of CJ7 fame to be his daughter. Outside shooting, "father" Andy also passed several methods of being a human to Xu Jiao. Take for example, Xu Jiao entered showbiz at such a tender age thus appeared lost and follow the crowd, she will follow whatever other say is good, this will result her to lose her childhood. Andy said: "I love to chat with her during shooting, hoping to bring her back to the children world."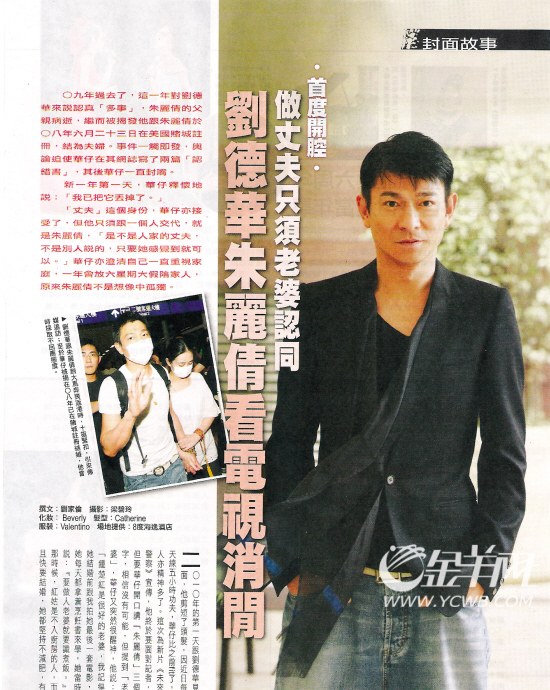 Being a husband, pressure is not on him
All these years, Andy had never confirm the status of Carol until that day he held her hand and appear at the airport. Finally Mrs. Lau is revealed to the world. However, Andy did not think that the pressure had subside and said instead: "The pressure of revealing is not on me, magical isn't it?"
After becoming a husband, Andy feel that his mentality is the same, nothing is changed and also does not know how to describe the feeling of becoming a husband, "I'm not one who talked too much. Sigh, whether I'm a good husband is not said by others, it's how the wife feel. Some other's people husband, does not look like a husband. Currently, only she feel it will do."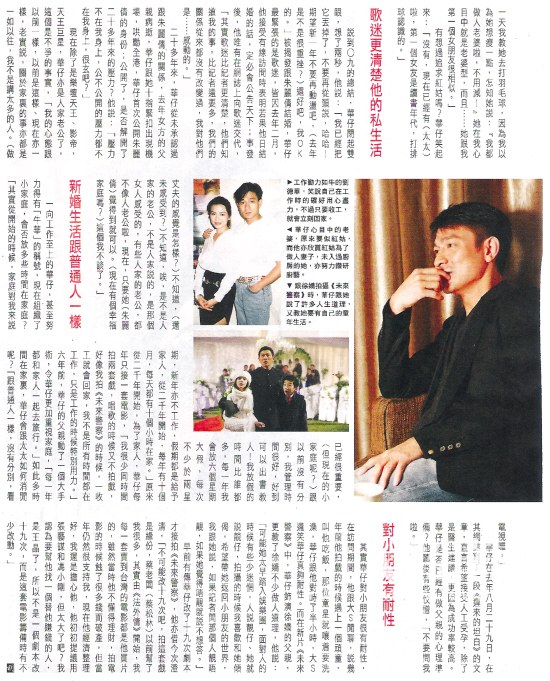 Being hardworking, would he had time for family? Andy clarify that he's always a family man, he would coordinate his time, he's so good that he could even publish a book to educate everyone. Andy explains that every year he would have six weeks of holidays, the least would be two weeks. Since the year 2000, he only have 10 months in one year, spending 10 hours each day at home. It's surprising how he could achieve that? It's because Andy would not sing and act together, if he's singing he would not be shooting films, concentrating doing one thing at a time, naturally the remaining time would be use to interact with his family. Other than going on holiday tour with his family every year, his past time with Carol is the same with any other people that is watching TV.
After announcing his marriage, did it affect his relationship with his fans? Andy appeared to be very confident as he revealed that the fans know about it, they knew more than reporters, their relationship remained unchanged. With regards to this, Andy is very grateful.
news from: Ming Pao Weekly
---