To celebrate the 10th Anniversary of the Macao SAR Government, Andy Lau held a concert at Macao Stadium yesterday, he even performed hanging on wires. Andy quipped that it would be great coming to Macao for concert for the Macao SAR Government anniversary every year.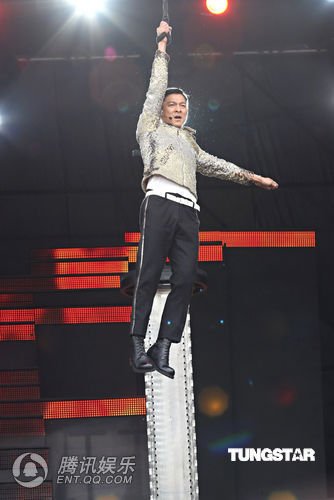 At the opening of the concert, Andy was hang on wires before been lowered down to the stage, singing 'Zhong Guo Ren' this excites the audience. In order to get near to the audience further away from the stage, Andy once again hang on wires to get himself to the center of the venue. Although Andy was at a height 8-storey, but his expression did not change as he continue to wave and smile to the audience. During encore, an excited Andy said: "All of you don't wish to leave? So leave the remaining time to me, no matter what it will be in future, I'll want all of you to stay behind to accompany me, all of you cannot run away from my palm."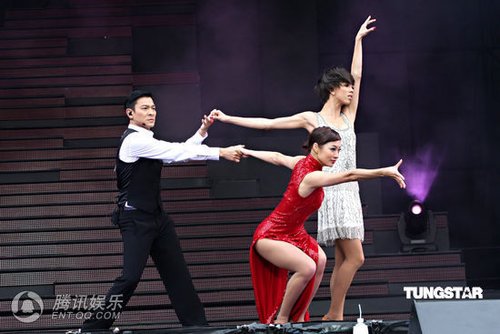 He later said that there are high and low in life, thus he hope that everyone will remember him. After saying, he became mischievous again as he asked everyone to take note of his soon-to-be-screened film. In the end, he sang 'Mu Qin' and quipped: "I hope that for every Macao SAR Government anniversary, they would invite me here for concert, then I would have the chance to meet the fans here!"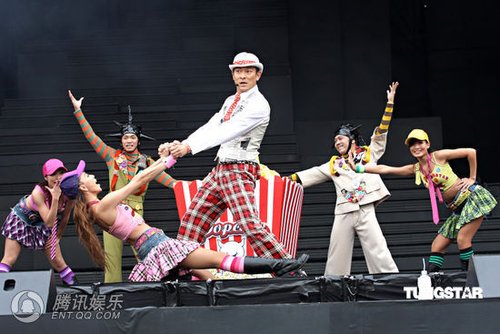 It is said that the concert is a present to the Macao resident by the Macao SAR government. The ticket of the concert is priced at 200 MOP but local resident could have discount till each ticket cost 50 MOP. With such cheap ticket price, many resident brought the whole family to watch Andy's concert. Other than young couples, you can see audience range from the age of 5 – 70 years old.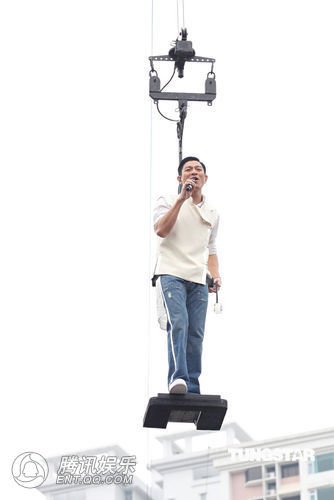 More photographs of the concert here
news from: Wei Wen Po, Apple Daily News, Sing Pao, Sing Tao News, Ming Pao, Guangzhou Daily, people.com.cn, xinhuanet, yule.sohu.com, ent.QQ.com
---