Andy Lau, Mr. and Mrs. Heung attended the opening ceremony of Shirley Huang's dancing school in Hong Kong two days ago. Since Shirley's appearance in Andy's 2001 concerts and the movie Dance of a Dream, Latin dance was better promoted to the masses.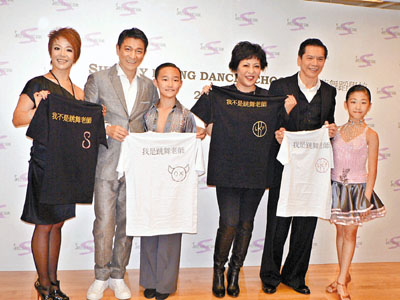 Andy whom is well verse in Latin dance offered himself as assistant instructor, he's happy to see Latin dance become one of the segment in Asian Games as it allowed more people to know of this sports.
At times, Andy would study Latin dance with Shirley, not many people are into this sport, on seeing Shirley opening the dancing school when Latin dance become one of the item in Asian Games, this allow more people to know about this sports. Andy revealed that he does not dare to dance in the past as people would be describing him as performing kung fu instead of dancing, now he had master dancing and need to learn kung fu again. When he was learning kung fu for the movie New Shaolin Temple, he was praised to be agile, he had already considered Latin dance as a sports which allow him to be more agile.
When asked if Andy had taken the Latin dance examinations, he quipped: "I'm just dance for fun, if going for competition would be of more difficulties, your legs could not miss the ground for four beat, it's difference from performing on the stage, I know that Shirley will be this year's Asian Games Hong Kong Latin dance head coach, I hope I can dance this dance in my future concerts, I will continue to practice."
When talked about the sudden death of Chen Hung Lieh, Andy had not collaborate with him before, he was shocked when learn of his sudden death, things are really unexpected, when asked if Andy would slow down his work for health reasons.
He said: "Accidents are hard to calculate, everybody must be careful of their health, I did went for health check, I had my blood checked every 6 months, I will do a detailed check-up every 2 years, everything is normal, I just inherited the high cholesterol, thus I would need to eat oat, maybe I took too much dairy products, now I'm allergic to milk, if not I can take oat for my three meals, thus I can lose weight." Andy's parents also had scheduled medical checkup every year, so do his employees whom are rather plump would also need to go to medical checkup every year, he hope that all of them to be healthy.
news from: Wei Wen Po, Sing Pao, Sing Tao News, Ming Pao, Apple Daily News, Headline Daily, Ta Kung Po, Hong Kong Daily
---