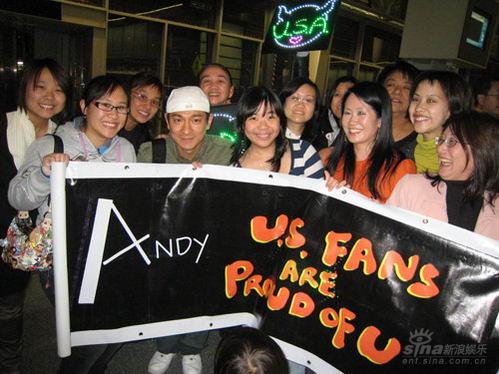 Into the year 2009, other than busy with the shooting of Future Cops in Beijing, Andy Lau also jet off to San Francisco to shoot a commercial.
Although his schedule is not being revealed, but local fans still went to the airport to welcome him as more than 10 fans held banners to welcome him which gave Andy a shock.
The fans also prepared some home-made food for Andy, the food that the fans prepared includes sandwiches, desserts and soups. The fans' thoughts warmed Andy's heart.
In addition, Andy also met the local "Bruce Lee" , he expressed that when meeting the crew members, one of them introduce himself as a Bruce Lee fan, he also changed his name to 'Lee Ke Long'.
Initially Andy thought that the crew member is just a normal Bruce Lee fan, unexpectedly during the shooting of the commercial, the crew member transformed himself into Bruce Lee, from his hairstyle to the costume Bruce wore in Game of Death.
Andy sing praise of the similarity between Bruce Lee and the crew member, but Andy was about to mention that something is missing, the crew member immediately pull out his nunchakus and performed kung fu, everyone burst into laughters.
Andy then seize the chance to challenge this "A quality Bruce Lee", unexpectedly he told Andy: "Asians are not weaklings." Andy in returns said: "I'm also just swordsman Hua, just A quality Long Dee." The crew member said that he had watched Andy's As Tears Goes By, Infernal Affairs and Return of the Condor Heroes.
In San Francisco, Andy got to eat 4 meals per day. He said that after the shooting of this commercial, he would have to train hard to slim down.
He managed to eat food from all over the world, among them are Thai, Japanese, Vietnamese and Italian food, but Andy loved Chinese food. When the food and snacks were delivered, Andy and his crew members fight for the food, when one crew member said Andy loved to eat these snacks, Andy quipped: "Maybe you had not ate Chinese food for a long time."
Andy exclaimed that this is a happy trip for him, because he managed to eat and played well. It was the great sale period there thus he find time for shopping. The shop was crowded and nobody managed to recognize Andy. However during paying, he was recognized by the cashier and there was a small commotion. Andy immediately return to his vehicle while his crew members helped him pay.
While shopping, he bumped into a Chinese-American mixed blood baby whose mother is his fan. When the mother saw Andy, she immediately asked for a photograph to be taken together. On seeing the cute baby, crew members also took turns to take photograph with the baby. Andy quipped that the crew members were using the baby to keep themselves warmth.
news from: Sing Tao News, Apple Daily News, udn news, Ta Kung Pao, Wei Wen Po, Ming Pao, Sina.com
---