Look For A Star which will open in the cinemas on 23 January 2009, director Andrew Lau lead the cast Andy Lau, Shu Qi, Denise Ho and Dominic Lam to attend a Look For A Star Achieving Blessing (literally translated) promotion activity at Olympian City.
The event attracted more than 600 people, fans of Andy and Denise were there to support their idols. Fans of Andy kept screaming throughout the event, Andy who is in good mood also kept communicating with his fans.
Andy and Shu Qi held each other's hands when making an appearance. For the theme of the activity, the compere asked Andy if he had achieved a lot of blessing because he's adored by many, Andy quipped: "I'm the one doing my part of making people feel blessed, hope there will be a girl to accept it."
The organizer arranged three couples whom wore wedding gowns and suits as they declare their love before Andy, Shu Qi and company. When Andy saw the first couple, he was very interested as the lady is pregnant thus Andy kept chatting with the couple.
Shu Qi teared when she heard the love declaration of the three couples.
When asked if Andy is blessed at the moment, Andy said: "Ok la, everything is very equal which includes career, love, family, friends and health, who would complain of having more blessed?!"
When asked that Andy had a nice chat with one of the couple, Andy quipped: "You're right! I'm asking some experience from her, one must be responsible when pregnant. I must learn from them to be responsible."
When reporters asked Andy if he has responsibility in his current time table, Andy exclaimed: "Currently I had yet find a woman and baby, I'll tell you when I found them?" When asked if he had a girlfriend currently, Andy said: "I've many, making my choices currently."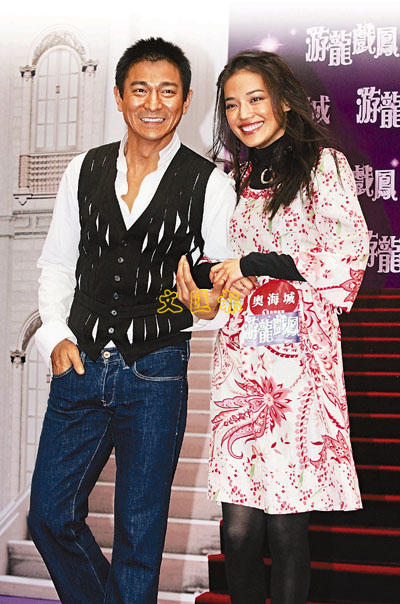 Although Andy seems uneasy when answering questions on relationships, he smiled and said that he would talk about his love relationship because this is a love movie, thus during promotion he would not be afraid of being asked such questions. If this is an action movie, such questions will not be asked.
Some reporters tried to save Andy from more troubles by switching the question to the box office takings, a delighted Andy said: "Maybe let's take a photograph first."
With regards to the box office takings, Andy hope that the film will be able to collect between $20,000 – $30,000.
With regards to the upcoming Chinese New Year, Andy expressed that similar to previous years, he would be busy till the holidays, "I'll only finish shooting and come back to Hong Kong on Chinese New Year Eve, then I will have a 3 weeks break, after that my record company will arranged me on the releasing of my new album."
news from: Sing Pao, Ta Kung Po, Wei Wen Po, Sing Tao News, Ming Pao, Apple Daily News, Headline Daily, Actionnews, Sina.com, xkb.com.cn, hexun.com, netease.com, tom.com
---