The world premiere of Look For A Star was held at Beijing yesterday, director Andrew Lau and the cast including Andy Lau, Shu Qi, Zhang Hanyu and Denise Ho attended the press conference.
They made an entrance with the wedding march in music, walking past a wedding flower gate with hands carrying cards labeled "bride" and "groom".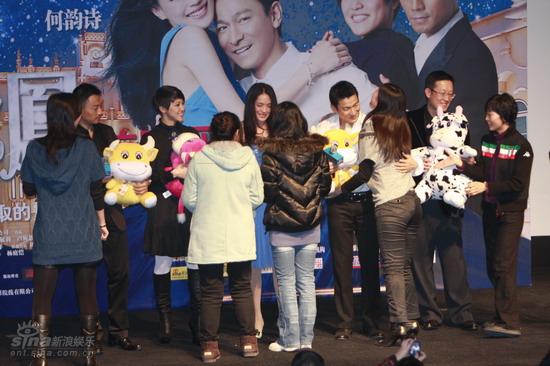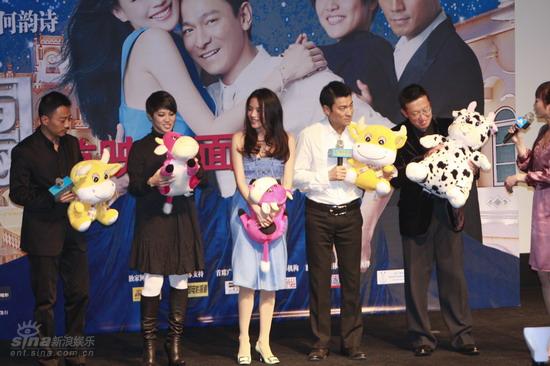 They got presents from fans, the cinema and organizers, Andy even picked a soft toy ox as present for his son. He said: "I have 2 sons at home, they're also born in the year of ox, thus I bring this ox back for them."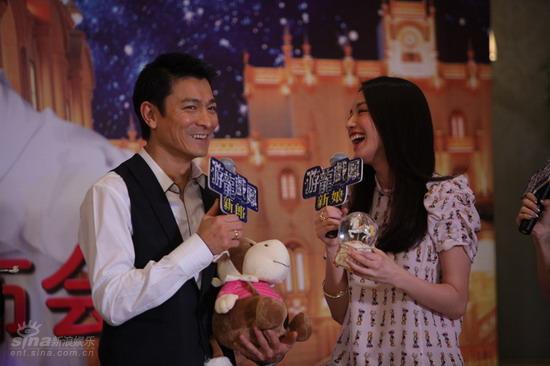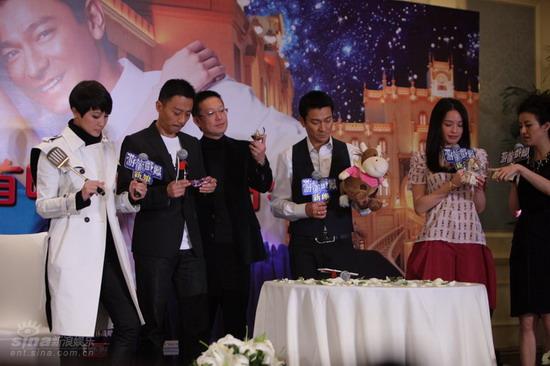 Andy wore a "wedding ring" on his ring finger created some commotion to the media. Both Andy and Shu Qi sing high praises of each other during the press conference as they expressed that they awaited to get married to each other.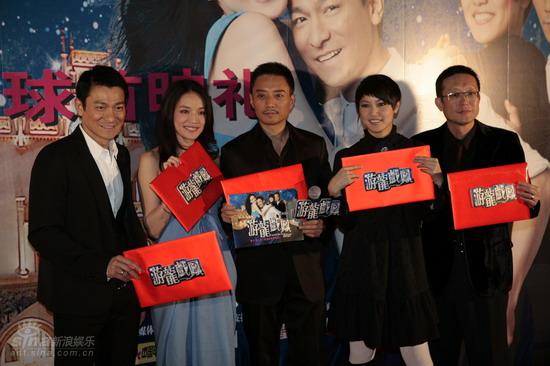 It was discovered that Andy was wearing a "wedding ring" on his ring finger, the Chinese media asked if he had got married, Andy quipped: "Many thanks everybody for asking, this ring is sponsored by Cartier."
When asked that this year is the Year of the Ox, it was stated that those born on the year of the ox will big plans, when reporters asked if it's getting married for him? Andy expressed that this question is rather odd as he had answered questions of him getting married hundreds of times, he quipped that if he were to get marry in the year of ox, he would had married four times, change a girlfriend every 12 years, that means he had got married when he's 12-years-old.
Andy expressed that his "hardworking ox" image leaves a deep impression to people, thus he will be asked questions about year of the ox. When asked if he will inform fans if he get married, Andy asked the media not to be worried as he revealed he has secret codes to communicate with his fans, he will telephone them to inform them.
Andy last collaborate with Shu Qi in 2000 Wesley's Mysterious Files, they collaborate again 8 years later, Andrew Lau quipped that they are united again as both of them had grow old.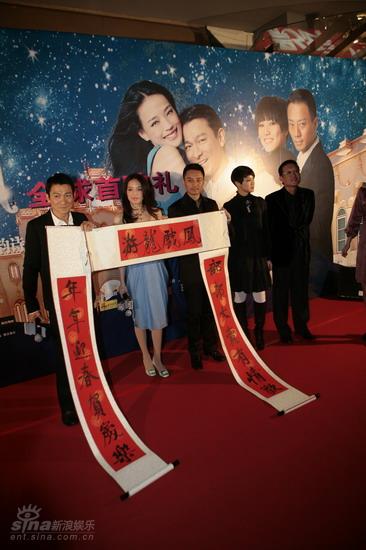 Shu Qi sing praise of Andy having more male charisma, its a choice to be married with.
When talked about his collaboration with Shu Qi, Andy sing high praise of her as he also said that he wanted to marry her. He said: "I've know Shu Qi for a long time, she had a lot of friends, when Andrew Lau lost his temper at the set, I will be angry at him at times, but not Shu Qi." Andy revealed that he dined with Shu Qi parents before, he found that she treat her family very well, she's a woman worth marrying.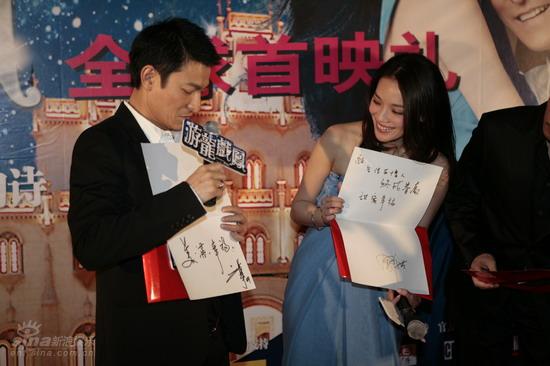 On the other side, Shu Qi also express her admiration of Andy as she exclaimed Andy attracted her in many ways, she said that he's very caring and take care of people around him, able to give her a warmth feeling.
Both of them talked about their outlook in love, both parties expressed that they believed that love is full of many possibilities. Shu Qi looked at Andy and said: "I'm waiting for Andy!"
Andy then quipped: "I believed that anything could happen!" Shu Qi have many female friends, although their loved one are of lower status, but they still have fruitful love relationship, thus she feel that she need not find a rich boyfriend.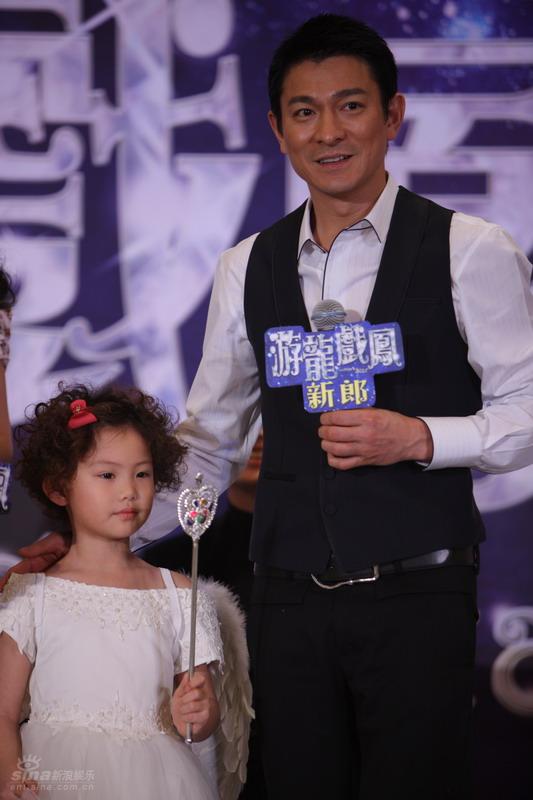 Shu Qi whom was shooting If You Are The One and Look For A Star at the same time, facing the pressure of box office takings appeared relaxed, Andy complains: "All the pressure is on me, everyone is so busy."
Having a love relationship with Ge You in If You Are The One and kissing Andy in Look For A Star, Andy exclaimed that it's comfortable, whereas Shu Qi expressed that it's very blissful. In the end, Andy challenges Ge You: "If Look For A Star manage to collect $3 billion, I'll treat you the taste of kissing Shu Qi."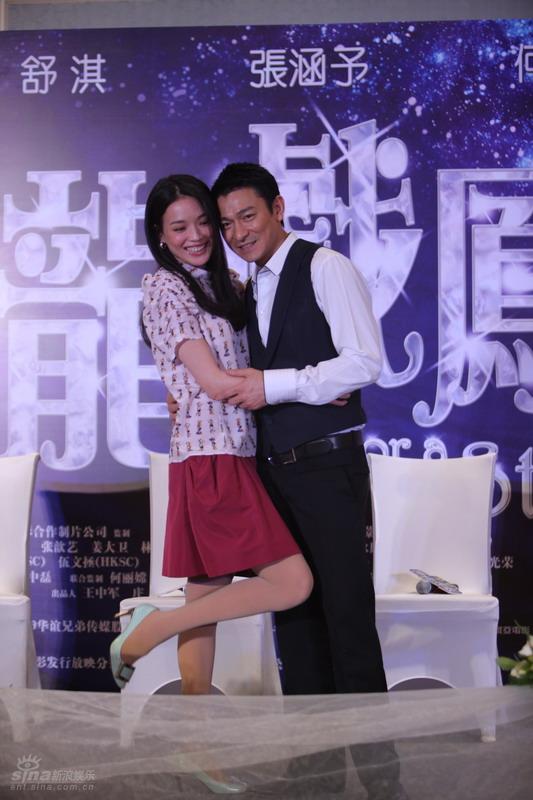 Although shot many romantic films, Andy think that Look For A Star should be consider as a comedy. "Dance of A Dream still has a busybody, I feel that it's realistic, Needing You is more of a comedy, actually I think Yesterday Once More is very romantic, but seldom people think so."
When talked about old partner Sammi Cheng, Andy revealed that he would like to collaborate with her in 'Nan Quan Bei Tui'.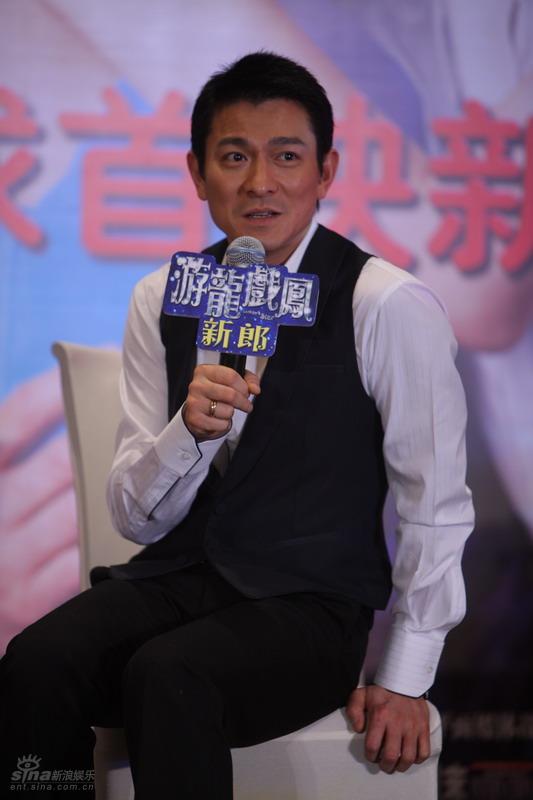 With regards to this, Andy explains: "Sammi is able to put her leg onto her neck, she has a flexible body, this is her nature. I hope that after Sammi master her kungfu and come look for me."
The 5 leads recorded a special program for the Look For A Star premiere for CCTV before attend other premieres in Hong Kong, Guangzhou and Macao.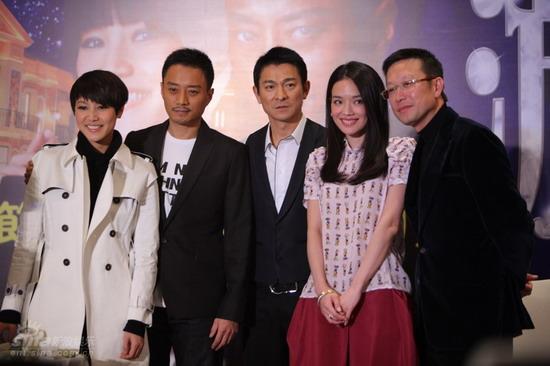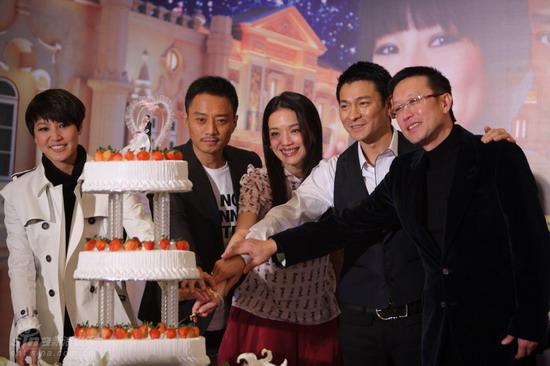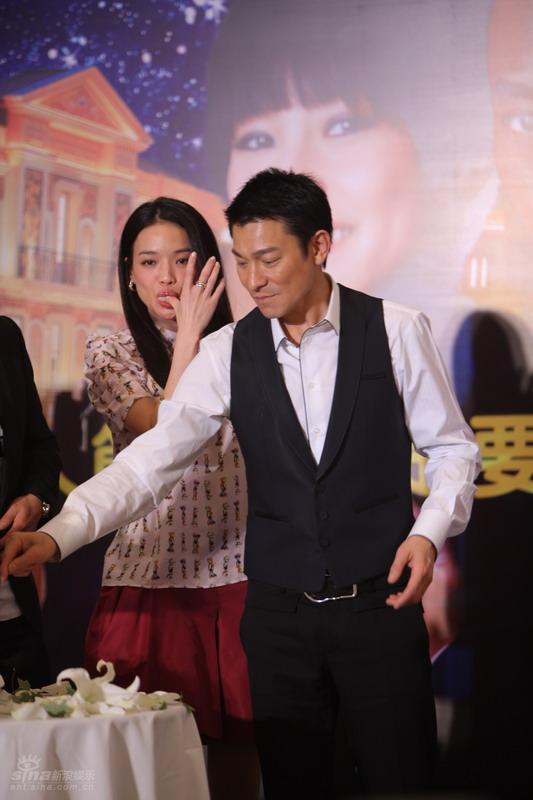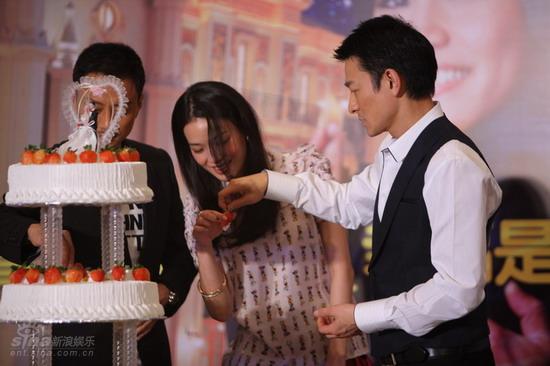 news from: Ta Kung Po, Liberty Times, Apple Daily News, Wei Wen Po, Sing Pao, Sing Tao News, Ming Pao, yule.sohu.com, ent.163.com, yule.baidu.com, ent.tom.com, mtime.com
---