The premiere of Look For A Star was held at Queensway's AMC Pacific Place two nights ago, director Andrew Lau lead the cast consisting of Andy Lau, Shu Qi, Denise Ho, Zhang Hanyu, Dominic Lam, Ella Koon and others to attend, even Media Asia boss Peter Lam is present.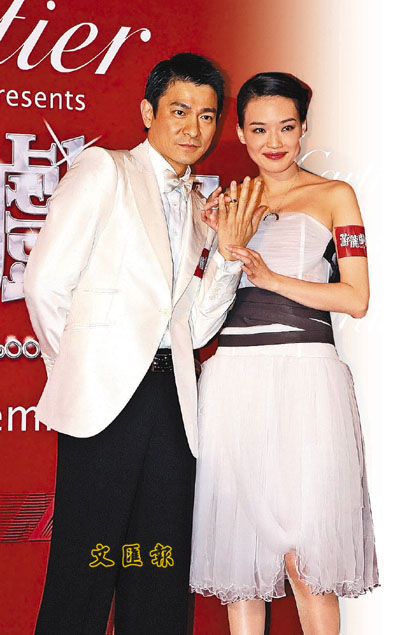 Andy wore a white western suit while Shu Qi wore a shoulder-bearing dress, they looked like the bride and groom. The organizer requested them to perform the most romantic scene from the movie, that is exchange their love item in the proposal scene.
Andy will help Shu Qi to wear the Cartier Trinity series diamond necklace whereas Shu Qi will helped Andy wear the Cartier ring.
Andy gave Shu Qi a kiss after helping her wear the necklace, Shu Qi's face immediately turned red and use her hand to cover her mouth in delight. To satisfy the media, Andy kissed Shu Qi thrice in order to allow all reporters to take their photographs. Andy then quipped that he and Shu Qi will be going into their bedroom.
When the reporters asked when he will get married, Andy replied: "I already got married on the stage just now, I've not scheduled this in my time table. (Have you ever thought how your wedding will be?) I've never thought about it, because I have experienced too much due to being an actor, even I tried having my nose bleeding when I was wearing the groom suit, when I get married, everything will be simple and low profile, many just signing on the wedding certificate, believed all of you (reporters) will not like it to be troublesome! Thus I will not make it a trouble for all of you, rest assure, when I'm getting married, I'll inform all of you."
When asked what if his wife would like to wear the wedding gown? Andy quipped: "Then I'll choose one whom don't like wedding gown, only love me will do, even the woman don't love getting married."
When talked about the box office collection with the review of Look For A Star better than All's well End's well 2009, Andy expressed that he's confident of this movie as it will have a good box office taking but he do hope that both movies will do well.
Andy said that he will not be going overseas for this Chinese New Year as his Cantonese album is going to be released soon as he need to prepare a series of promotion activities.
news from: Sing Pao, Ta Kung Po, Wei Wen Po, Sing Tao News, Ming Pao, Apple Daily News
---