The start shooting ceremony of New Shaolin Temple was held at Shaolin Temple yesterday. When the cast of Andy Lau, Fan Bingbing, Nicholas Tse, Jackie Chan, Wu Jing and other crew members were on their way to Shaolin Temple, 60 tour buses path the way for them, 15000 disciples cheered for them along the way, 15000 monks maintain order. With many locals and tourists, the Shaolin Temple was jam packed. The event was cut short due to the crowd.
When the artistes arrived, the abbot Yung Shin brought them around the temple. This is the first time that Andy visited Shaolin Temple, he was very interested when watching the Shaolin children performed. He had met the abbot before and find him very friendly.
Andy will be a general whom become a Buddhist at the end of the movie, the script would require him, Jackie and Nicholas to shave their head, all of them do not mind but due to other film commitments, they are considering how to handle the situation. Andy said: "Shave my head is OK for me, most important is to accommodate the script."
Director Benny Chan exclaimed that other the actors need to shave their heads, they would also need to go through Shaolin kungfu training in order to make the fighting scenes more realistic.
Andy exclaimed that he had not collaborated with Jackie for more than 20 years as they last collaborated in My Lucky Stars 2: Twinkle Twinkle Lucky Stars and Island of Fire.
When asked about his feeling of back to work? Andy appeared that he does not understand the question but later exclaimed that he had been working all along and had nothing wrong with his feelings. He said: "Nope, I have accepted this offer a long time ago, I will learn kung fu for this movie, I already hired a master."
At the press conference, the media discover that Andy was not wearing any wedding ring, when asked the reason, he quipped: "I've yet buy one!" When reporters continued to ask: "Is the wedding ring not important?" Andy denied immediately.
When Jackie was asked why did he accept the New Shaolin Temple offer, he quoted two reasons: one abbot Yung Shin had told him that he would like to collaborate with him 10 years ago, secondly he would like to collaborate with Andy as it had been 20 years since he last collaborated with Andy.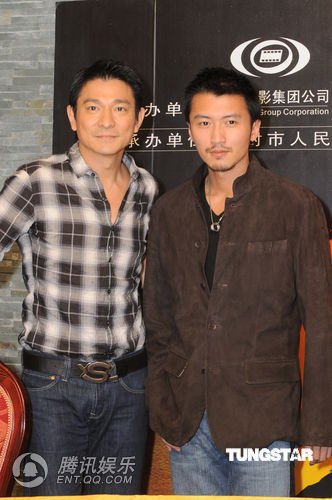 Nicholas also exclaimed that he accepted New Shaolin Temple because he wanted to collaborate with Andy because he shot a music video with Andy when he was 19 years old, he's not sure if Andy remember but finally this little fan get the chance to collaborate with his idol.
news from: Ta Kung Po, udn news, Headline Daily, Hong Kong Daily, Wei Wen Po, Sing Tao News, yule.sohu.com, Apple Daily News
---