In the afternoon of 22 January, Hong Kong director Andrew Lau lead his cast of Andy Lau, Shu Qi, Denise Ho and Dominic Lam to Guangzhou for the promotion of his latest film Look For A Star.
Andy who is a millionaire who brave everything to look for love was asked about his love in real life, he said: "I feel that the most romantic is to be able to wake up everyday and see your loved one beside you." Andy also admitted that he was wearing a wedding ring on his right hand's ring finger, he added that it's a prop from the film as he expressed that he will not grow old alone, "Everybody rest assure, the day will come for me."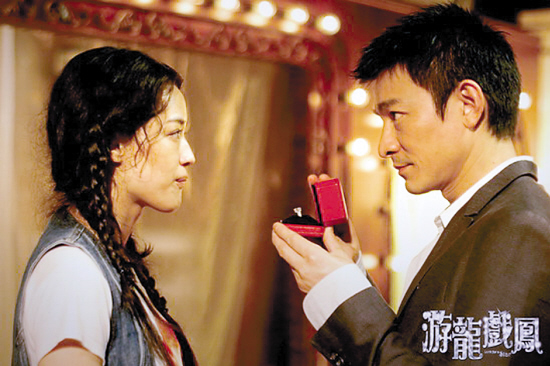 In Look For Love, Andy is a millionaire whom fall in love with sexy dancer Shu Qi, after experiencing many tests and break through many obstacles, they are finally together. The story was touted to be referring to Macao's casino king Stanley Ho and his fourth wife as model. There are many romantic scenes between Andy and Shu Qi in the movie, so is their love life as romantic in real life?
When talked about experiences in romantic, Andy sighed: "When I was still a student, I once dated a girl to meet up at a hotel, in the end I went to the wrong hotel, we both waited two hours for one another. Maybe I entered showbiz too early and I was busy everyday and need to think of many things, I always do romantic things in the movies, but in real life, I feel that I have yet tasted the real romantic, for my whole life, I have not found the real romantic in real life. My current thoughts is that romantic does not means anything, what's important is who you are together with, romantic is when you're able to see your loved one first time when you open your eyes everyday."
At the press conference, Andy was wearing a wedding ring on his right hand's ring finger, he was asked by reporters about the ring. Andy show off the ring for reporters to take photographs and said that this is the wedding ring he wore in the film which is sponsored by the sponsor. When asked when will he wear his own wedding ring?
Andy answered seriously: "Everyone rest assure, that day will surely come. I will not be lonely till I old, I'm afraid to spend the next ten years alone, I didn't do anything evil, heaven will take good care of me."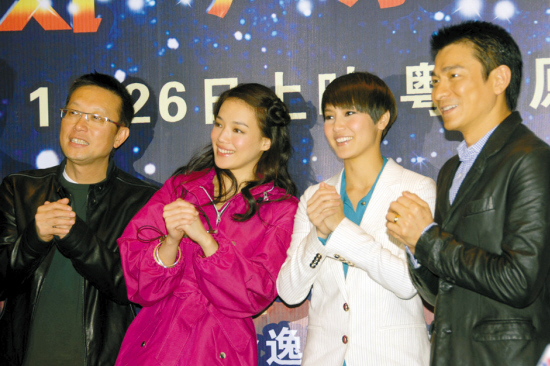 In the film, millionaire Andy wrote a prenuptial agreement for Shu Qi to sign which makes her wonders how much does Andy loves her. With regards to prenuptial agreement, Andy think that it's ridiculous. He said: "Prenuptial agreement is ridiculous, if the one I loved wanted a prenuptial agreement, I will respect her decision, but I will not request her to sign one, I feel that it's ridiculous."
news from: ent.163.com
---