Joint produced and invested by China Film Group Corporation, Hua Yi Brothers, Hong Kong's Emperor Group and Henan TV, the film New Shaolin Temple which has a cast of Jackie Chan, Andy Lau, Nicholas Tse and Fan Bingbing will be holding its press conference at Shaolin Temple.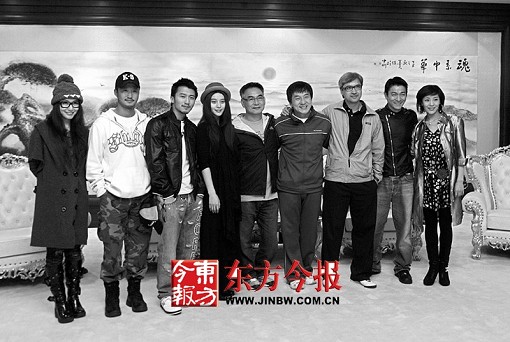 Around 3:40pm yesterday (21 October 2009), it was said that Andy Lau, Nicholas Tse, Fan Bingbing, Wu Jing and other stars will be touching down at Zhengzhou, the reporter immediately rushed to Zhengzhou International Airport. Around 4:20pm, large group of fans with banners had already waiting outside the airport's VIP room.
Around 5:58pm, the boss of China Film Group Corporation, Andy and Nicholas entered the VIP room. A cool and cute Andy whom was wearing a leather jacket and jeans with hands in pocket, Nicholas wearing sunglasses was walking behind Andy.
It seems that Andy and Nicholas had an agreement that is Nicholas entered by the main door to catch everybody's attention whereas Andy would hide among the crowd. However, the plan succeed half as fans were chasing after Nicholas and sharp eye fans shouted: "Andy Lau!" and Andy tried to dash forward, after being "exposed", he had to hide in the toilet to wait for a human wall by the security to form up before successfully get into the room.
At 7pm, Zhengzhou Sofitel International Hotel became very crowded and Jackie Chan whom was in sports gear walked into the hall around 7:30pm.
The reporter understand that the cast of New Shaolin Temple had been confirmed with Nicholas as the male lead whereas Andy, Jackie and Wu Jing would be supporting actors, the female lead would be Fan Bingbing, the film's director would be Benny Chan of New Police Story and Connected fame. The film investors would be China Film Group Corporation, Hua Yi Brothers, Emperor Group and Henan TV would be the production base, Shaolin Temple would also be heavily involved thus this would be a huge production. One of the producer of the film would be Shaolin Temple's abbot Zhe Yongxing's disciple. He expressed that when compared with Shaolin Temple, New Shaolin Temple will have location shooting in the temple which is the advantage that this film has when compared to other Shaolin Temple theme films. Other than the usual hawk crawl, tong zi gong, shaolin gun and classic kungfu on display, other shaolin kungfu that had never been seen before will appear in this film.
Director Benny Chan told reporters that he had visited Henan for the past few days to scout for location shooting locations, the film will have location shootings in Songshan Shaolin Temple and certain shooting to be completed in Hengdian World Studios. He expressed that New Shaolin Temple would be different from Jet Li's version of Shaolin Temple of 13 monks saving the Tang Emperor. The cast of New Shaolin Temple can be considered "international", Jackie Chan and Wu Jing are international action stars, Andy Lau, Nicholas Tse and Fan Bingbing will sum up the cast.
It is known that the budget for the film would total up to ¥2 billion.
news from: ent.163.com, www.dahe.cn, sina.com
---