Earlier Andy Lau released the song 'Mu Qin' for 60th anniversary of People's Republic of China, the song had been widely downloaded and sang. When he sing the song during his birthday party with his fan club, the fans were able to sing along. With 1 October round the corner, Andy was invited by CCTV-3 and CCTV-4 to sing for the nation in Beijing, people around the world would be able to watch these 2 gala events where Andy sang 'Zhong guo Ren', 'Mu Qin', 'Jin Tian Shi Ni De Sheng Ri Wo De Zhong Guo'.
On 29 September, Andy rushed to CCTV's People's Republic to celebrate the 60th anniversary of the establishment of large-scale theatrical show and Mid-Autumn Festival, and to greet the National Day at the Water Cube.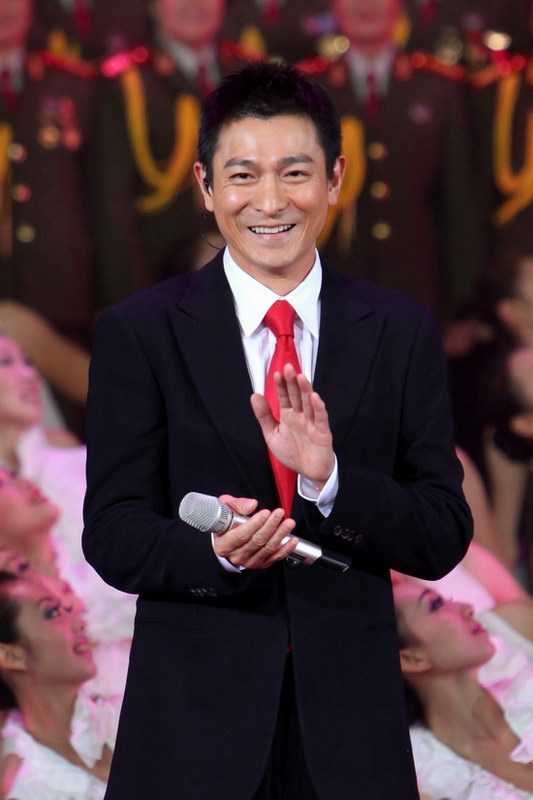 Andy arrived at CCTV first to duet 'Jin Tian Shi Ni De Sheng Ri Wo De Zhong Guo' with Mao Amin before taking a 40 minutes car ride to the Water Cube to sing 'Mu Qin'. Many ministers of all levels attended the two events.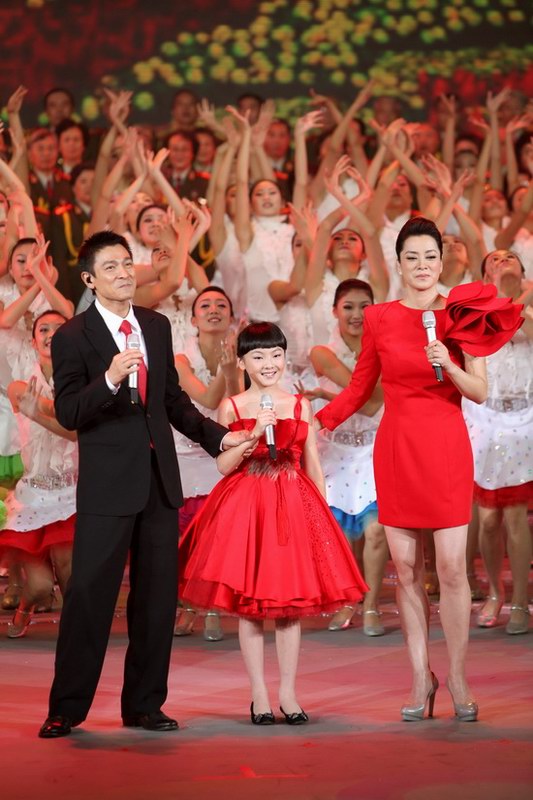 After celebrating his birthday on 27 September, Andy took the morning flight on 28 September to Beijing for the rehearsal of the two events. Immediately touch down at the airport before afternoon, Andy took a car ride to CCTV for rehearsal and recording. Upon reaching CCTV, he met Mao Amin whom he would sing a duet, Andy said: "Although we never collaborate before, but we are not strangers, we have relationship of the same companies." Actually Mao Amin signed up with Hong Kong's TVB in 1992 and Capital Star record company in 1993. In addition, Andy whom always supported disabled athletes was appointed the ambassador for the 2008 Paralympics Games whereas Mao Amin is the China disabled athletes ambassador. Meeting for the first time, Mao Amin told Andy: "Andy, you really sing well."
Andy whom seldom sing such vocal songs allowed Andy to practice his vocal when he's free thus he even hum and sing when he's eating, even the crew members burst into laughter. Andy then apologize by saying: "The tune of 'Mu Qin' and 'Jin Tian Shi Ni De Sheng Ri Wo De Zhong Guo' are always inside my mind."
During the actual performance on 29 September, Andy and Mao Amin collaborate for the first time when they duet 'Jin Tian Shi Ni De Sheng Ri Wo De Zhong Guo', the soldiers in army uniform, nurse and 9-years-old Dou Dou also came onto the stage to sing along, whereas the audience and leaders also clapped along to the tune. They won loud applause from the audience with their flawless performance.
After his performance in CCTV-3, Andy then rushed to the Water Cube to sing 'Mu Qin'. When Andy arrived at the Water Cube, he was given a brief introduction of the Water Cube and asked if he came to the Water Cube before. Andy said: "I came here before to watch the Paralympic Games last year, it was an exciting contest, it's a rare chance to watch the contest live. I do hope that there will be such contests being held in such a good facility, will come to watch them more often if got the chance."
When Andy sang 'Mu Qin' wearing a samfoo, many in the audience sing along. Andy then sang 'Zhong Guo Ren' which brought the atmosphere to new heights and loud cheers. Andy was delighted to know the popularity of 'Mu Qin', when asked why he used the song to congratulate the 60th anniversary of China and if there is any meaning? Andy said: "Writing this song is referring to the thankfulness, thinking and proud feeling a Chinese living in a foreign country, it's more on enthusiasm rather than excitement."
After performing in the two events in Beijing, Andy will return to Hong Kong to perform in Hong Kong's 60th anniversary of China large scale gala event.
news from:yule.baidu.com, Ta Kung Po, udn news, Apple Daily News, Wei Wen Po, Ming Pao, ent.16.com
---