48-years-old Andy Lau whose birthday was yesterday once again celebrate with his fans in a party in advance and also wrote a diary to express his feeling. Although he did not have a smooth year but he still used thankful to describe his feelings. According to reporter's understanding, on the actual day of his birthday, after penning his thankful feelings, he did not show up in public as he spent a simple day with Carol Choo.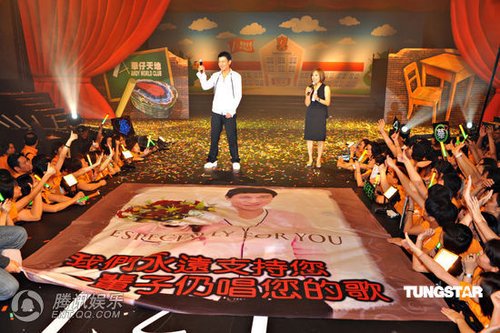 After the "lying" incident, Andy always stayed at home and seldom head out of his home nor said much, until appearing at the birthday party days before his birthday, although the incident resulted in several fans opting out of Andy World Club but there were still close to 2000 fans celebrated with him. Andy's parents, good friend Lam Katung were present but Carol whom had been secretly supporting Andy was still nowhere in sight, it could be Andy specially wanted to protect her. Throughout the party, Andy teared a few times, he also bow and apologize to the fans. "Everyone been through happiness and unhappiness, we're still together, just like a family, giving me a warmth feeling, hope everybody in this family will enjoy happiness." After saying this, he sang 'Yi Qi Zuo Guo De Ri Zi', when singing 'Chang Tu Ban Lv', the fans shouted out Carol's name. Andy smiled and said: "Thanks everybody, many things happened recently, hope everyone can forget about it. Rest assure, I'm okay, there's nothing change toward all of you."
According to Andy's company, the fans are most important to Andy ever since he entered showbiz, hiding the truth of his marriage is because of this, currently he's still worried that his fans will have a change of heart thus he always proves that he has no change of heart, even when he's married his love for his fans had not changed: "He said so much is because he's too serious of the fans remarks."
Since the exposure of his marriage, his official website had become his "spokesman" as he used his diary to express his feelings and thinking. However when the reporter tried to log on to the website, one need to register in order to log on, it seems that Andy only wanted his fans to know his feelings. The reporter later used other means to get hold of the content of the diary posting, Andy wrote that post at the midnight of 27 September.
He wrote: "Looking at me grow up, those that I watch them grow up, we have the affinity to become a family, long enough relationship, new members joined in, in order to have the crowd at the Andy family birthday party, thus the question "What can I ask for an artiste like me?", I'm not self confidence, but I really satisfied."
Although it had been a tough year, Andy expressed that he felt thankful. After news of his marriage, there are still so many fans celebrating his birthday with him, his colleagues also had a "support Andy Lau, tea break treat" action to let him know that he's not fighting alone. Andy expressed that he had birthday every year but he's most thankful this year, and think that this is the long relationship with heaven.
The reporter understand from Andy's company, although Andy would always celebrate his birthday with his fans in advance, but on the actual day he would always want to spent with his family. Yesterday Andy dine with his parents and Carol, and made a "wish" that he would spent the rest of the days peacefully. Meanwhile, the guilt of marrying her that Andy suffered, Carol expressed that she would accompany Andy through this difficult period.
news from: ent.qq.com
---