It's a known fact that Hong Kong heavenly king Andy Lau hide the truth that he was married, he got the tag of "Lying heavenly king", several fans could not accept their idol lying thus decided to leave Andy World Club.
Despite this, many fans still did not give up on Andy as they attended the "922 Andy Lau family happy birthday party" to celebrate Andy's birthday two nights ago. This is also the first time that Andy officially meet his fans after his lies are exposed, Andy has a guilt look and bow to them as apology, he teared when singing 'Yi Qi Zuo Guo De Ri Zi'.
Two nights ago, 1,500 fans of ages ranging between 4-70 years old attended the party. Andy's parents, Lam Katung and super fans Christine Au Yang attended but wife Carol Choo is nowhere in sight. Several fans took turns to perform on the stage while Andy watched. When the activity started, several families went onstage to sing 'Shi Nian' which touched Andy that he teared.
When Andy went onto the stage, he has a guilt look and bow to the fans. Andy said: "Everybody been through happiness and unhappiness, we are still together, just like a family, giving me warmth, hope everyone would enjoy and be happy in this family."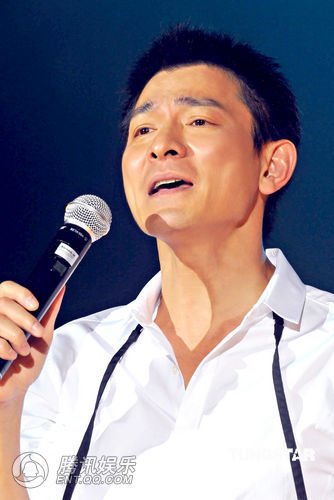 After saying, he sang 'Yi Qi Zou Guo De Ri Zi', in between he teared and the fans cried because of the atmosphere. When Andy sang 'Chang Tu Ban Lv', some fans shouted out "Carol Choo", Andy smile and said: "Thanks everybody, so many things happened recently, hope everybody will forget about it. Rest assure, I'm fine and there's no change towards all of you."
The fans got agitated and shouted: "Andy Support you", "Behind you", "Be strong", "Nothing is wrong" and other words, fans even shouted: "No matter it's rain or shine, we will be together with you," some even held banners with writings "We will support you forever", "Sing your song all my life".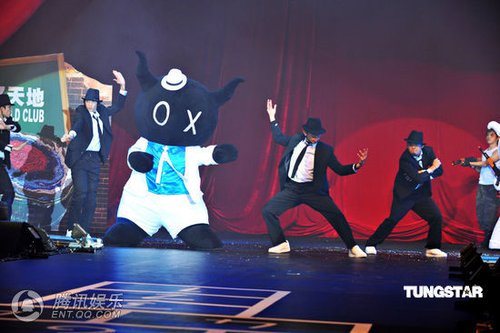 Other than the fans' performance, Andy's sons Andox and Box also imitate Michael Jackson which everybody burst into laughter.
In the end, fans, Andy's parents and other guests went onto the stage to sing the birthday song and accompany Andy to cut the cake.
Andy also presented the "elder" nickname and gold medals to 13 fans whom had been with Andy World Club for 20 years. One male fan was so agitated that he said: "I supported Andy when I still have hair, now that I'm bald, I will still continue to support."
Earlier during the recent fund raising event in Taiwan, Andy asked Taiwanese fans to donate the money to victims instead buying air tickets to fly to Hong Kong for the party as he would held a birthday party in Taiwan. With regards to this, the management company expressed that Andy had not forgotten his promise and he's currently arranging his schedule.
After the 3-hours activity ended around 11:00pm, Andy could have leave by the main door and with a one minute walk to the restaurant opposite to celebrate with the crew members. In order to avoid the media, Andy took the lift to the seventh floor before coming down again to enter the restaurant via the backdoor.
However, Andy was still spotted by reporters, he allowed them to take photographs but did not accept any interview.
Christine Au Yang expressed after the activity that Andy appeared with guilt on the stage and bow to the fans. She said: "Andy said that he was like a reborn baby, hope everybody forget everything happened in the past, he also cried on stage." Christine Au Yang pointed out that the fans replied with encouragement cheers. However Andy did not talk about Carol throughout the activity, when asked if Andy apologize to the fans? She said: "Yes, it seems that he do not know what to say when he went onto the stage, but he sincerely hope that everybody would accept him, he really look full of guilt."
news from: ent.163.com, yule.sohu.com, ent.hunantv.com, ent.qq.com, Liberty Times, udn news, headline daily, Ta Kung Po, Wei Wen Po, Sing Tao News, Ming Pao, Apple Daily News
---