The premiere of historic film The Founding of a Republic was held at Hong Kong Convention and Exhibition Centre yesterday. Director Han Sanping and Huang Jianxin, actors Tang Guoqiang, Zhang Guoli and Andy Lau attended. Hong Kong's Chief Executive Donald Tsang Yam-kuen also attended the premiere.
Since news of him registering his marriage in America with his 24 years girlfriend Carol Choo, Andy had been working in low profile. The charity premiere of The Founding of a Republic is his first public appearance which attracted many fans from Hong Kong and Mainland China armed with placards to show their forever support for Andy. During interviews, when talked about the fans continue support for him, his eyes immediately turned red.
He revealed that he will officially resumed work at the end of October or November. He exclaimed that the incident did not affect his work as he's currently accepted several film offers, other the film that he would be collaborating with Sammi Cheng had not come to any conclusion.
Before the premiere, fans from Hong Kong, Chengdu and Chongqing all arrived at the venue, raising banners of writings "Forever support you!" and "Accompany for the rest of my life!" to show their support for Andy. When Andy whom was wearing a gray samfoo arrived, the fans immediately screamed. Hundreds of media rushed towards Andy but this did not affect Andy as he maintained his smile.
With his 48th birthday round the corner, Andy expressed that he will celebrate with his fans as usual, he would also celebrate by dining with his family members. He had already received birthday presents but refuse to reveal his birthday wish.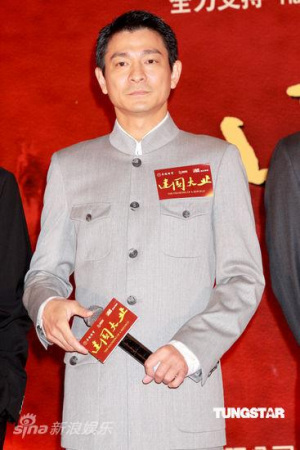 When talked about his one minute screen time in the film, Andy quipped: "I specially came to watch, I was shooting for two days, it's not tough." When asked what is his plan after the one month rest. He said: "Currently thinking of national issues, actually all my work had been arranged in advance, there is no special changes."
When reporters asked if he preparing for a baby and accepting assisted conception, Andy immediately expressed that he would not answer such questions. However when reporters talked about ex-girlfriend Yu Kexin auction off his presents to her, Andy only smile and did not answer the question but said: "Sorry, I'll not answer this question."
When asked if he send his congratulation to just married Miriam Yeung, Andy expressed: "I have not met her, (Do you feel that Miriam put you in this trouble?) Nothing of this sort! (Or you put Miriam in this trouble?) Nothing of this sort! (Did you apologize to her?) I'll not talk about this."
Andy exclaimed that he would resume work at the end of October or early November, he's currently discussing several movie offers, but the shooting of the film that he would be collaborating with Sammi Cheng would not start.
When asked if the attitude of fans had changed towards him, Andy expressed that he would communicate with his fans and their support remained un-change. When asked if he had gained more support, Andy expressed that it's the same.
When interviewed by Internet media, Andy sing praise of the film as he said that it is a good teaching material. When talked about the presence of fans support, Andy thanked them for the many years support as it touched him and gave him warmth, after saying these words, his eyes appeared red.
news from: yule.baidu.com, yule.tom.com, ent.163.com
---