In early 2010, Andy Lau will be cast in another love story film titled Kiss, he would be playing an university's professor and fall in love with a day-dreaming Zhou Xun. Accepting this love story film project could assist him of winning back some female fans whom are angry of him keeping his marriage a secret! In addition, Chow Yun Fatt also show his support towards Andy for not revealing his marriage.
After his secret marriage registration in Las Vegas with his 24-years girlfriend Carol Choo being exposed by Apple Daily News, Andy had to make a public apology to rescue the fans support for him, he had accepted to be cast in a love story film titled Kiss directed by Chan Hing Kai in order to win back some female fans.
The film will be produced by ChinaStar, preparation had stated 6 months ago, when director Chan Hing Kai presented the script to ChinaStar boss Charles Heung, it got his interest and the male and female lead had been confirmed to be Andy and Zhou Xun respectively. The film narrates an university professor meeting a day-dreaming crazy for love girl, in order to woo her, the professor tried all sort of methods to win her heart.
When reporters contacted ChinaStar, its spokeswoman Miss Lee clarify, she said: "The company is indeed interested in this film, our first choices are Andy Lau and Zhou Xun, nothing had been confirmed, the script is still been working on, shooting will start earliest next year, Mr and Mrs Heung had good relationship with Andy, the company will surely support him."
Chow Yun Fatt: Artiste is more protective of his family
In addition, Chow Yun Fatt bumped into Apple Daily News reporter when he took MTR from Kowloon to Central. Despite having a moustache, wearing a cap, carrying a haversack, the low profile Chow was still recognized as some fans went forward to ask for photographs which the friendly Chow oblige.
When asked if he followed the news of Andy hiding his marriage and then apologizing, Chow said: "I know about this, I know that he's married and is happy for him! He did not disclose could be due to some personal reasons, it's fine as he had explained to his family, friends and fans! This is his private matters, other people should not comment on it. Maybe being an artiste, he would be more secretive when comes to marriage."
Rosamund Kwan defended Andy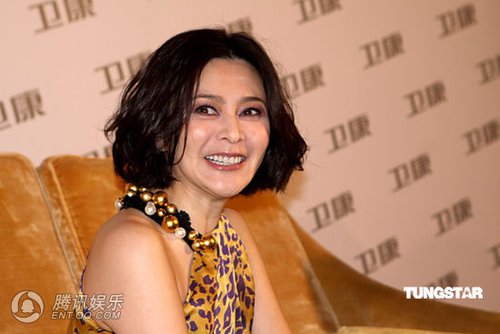 When interviewed in an event in Beijing, Rosamund Kwan whom was dressed in leopard strips talked about Andy's marriage. She took her hat off for Carol as if she was Carol, she would not be so tolerance as her.
Tian Jin Shuang:"This is the common illness in showbiz, not the problem of the individual artiste"
With regards to Andy hiding the truth that he's married, well-known artiste manager Tian Jin Shuang said:"This is the common illness in showbiz, not the problem of the individual artiste," when he was interviewed by zqb.cyol.com.
When asked how he looked at Andy hiding the truth that he's married, he said: "Actually insiders in showbiz know that he's already married, we just did not say out or reveal anything. After all this is his privacy, it's not nice to say anything. Andy is a trust worthy artist, he's honest in public, but after this incident, everybody found out that he's lying, the honest image is smashed in a split second. He made a dangerous move, like appearing at his "father-in-law"'s funeral to win everybody's sympathy. This is not wrong, but he wrote in his blog to test the fans attitude and tried to continue hiding his marriage, he admitted after he failed to hide the truth, this resulted in unhappiness and unbearable."
news from: Apple Daily News, ent.hunantv.com, ent.qq.com, yule.tom.com
---