After admitting that he's married because he wanted to have children and will be going through assisted conception, Andy Lau appeared in Beijing International Airport after completing his work in Hangzhou around 4:00pm yesterday.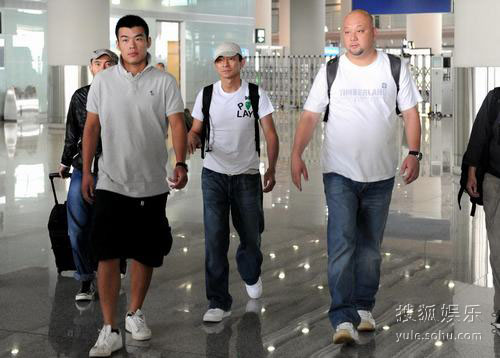 Dressed causally, Andy appeared tired and did not talked anything about his marriage.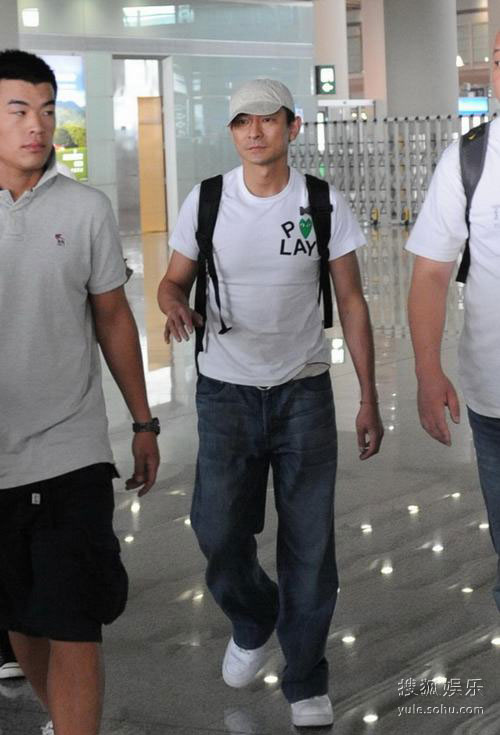 After collecting the red packets and flowers from fans at the airport, Andy swiftly leave the airport, this is his first appearance in Beijing after admitting his marriage. It is said that Andy is in Beijing for the shooting of the music video for 'Mu Qing' (Mother).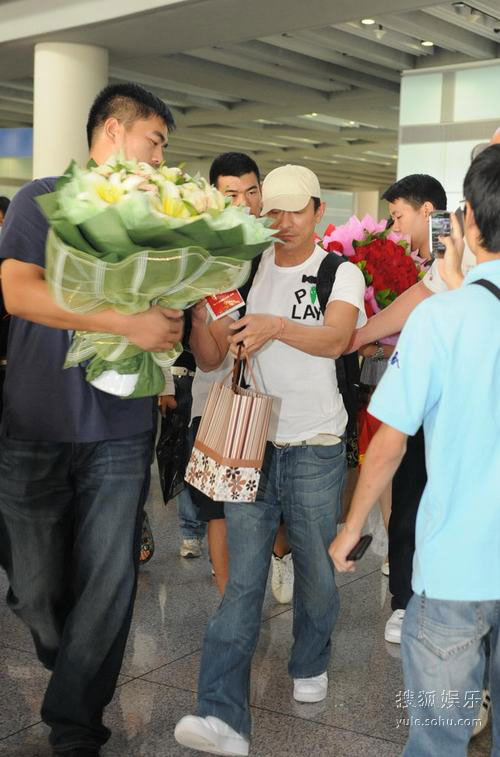 It's unsure if Andy is trying to hide from the spotlight as he missed the star stubbed China Film Huabiao Jiang.Alan Tam awaits Andy to seek advice from him
Alan Tam attended the Solar Project 2009 opening ceremony yesterday, when asked about Andy hiding that he's married and thus labeled as "Lying Heavenly King", Alan said: "Please don't blame him, maybe he's worried of agitated fans like Yang Lijuan."
When asked if Andy handling of Carol's father funeral is wrong, Alan said: "I don't find anything wrong, everybody can see the chaotic situation at the airport, if he announce his marriage during the funeral, the coffin would be destroyed! Let the senior rest in peace and not disturb him." With regards to whether Andy seek any advice from him on having children, Andy quipped: "I'm very open, high age has its own method of having children, I'm waiting for him to call me!"
Danson Tang support Andy and denied him as "lying heavenly king"
Danson Tang pointed out that Andy is in a more deep situation when compared to him as the pressure that he's in can't be imagine as he need to protect his family and wife, he's delighted that Andy choose to disclose, his wife would be happy. He said: "I look Andy as my idol, the scene of held hands is so handsome, no matter its girlfriend or wife, the sight is touching." Danson exclaimed that being an artiste himself, he already could not withstand the pressure, less said the pressure that Andy is in for so many years, he would go crazy, thus he supported Andy, getting married is a great thing, he would disclose if he get married as he want to receive the blessing from everybody, whereas he won't not disclose his girlfriend in order to protect her.
Andy and Yu Kexin signed marriage certificate 24 years ago
According to Hong Kong reports, Andy and Yu Kexin also signed on the marriage certificate in Taipei 24 years ago, they even left their thumbprints. Andy also suggested to get married in Las Vegas as they spent together close to 6 months as husband and wife. Yu Kexin's mother rectified this matter yesterday. She said: "The certificate is in a safe, this is a memorable item for Yu Kexin."
Meanwhile, Yu Kexin does not want to comment on this matter. However she did wrote about this issue in her book, she wrote: "He said he wanted to get married in Las Vegas, then also said in Hong Kong village, I'm at a loss and don't know what to do?" When they quarrel, Andy said: "Getting married is a lie to you, I only wanted to keep you by my side."
According to Taiwanese law, the certificate will not be valid if there is no witness when the certificate is signed, thus their marriage certificate is not valid.
Yang Lijuan is at a lost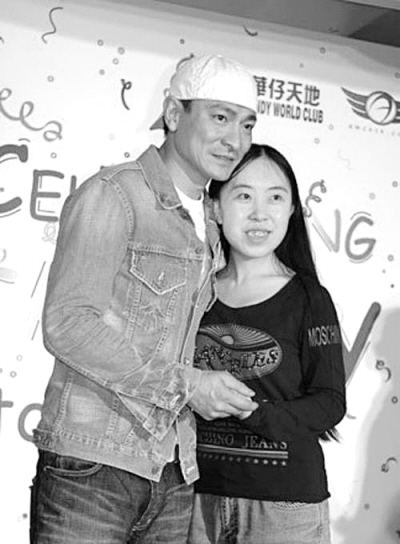 When reporters called up Yang Lijuan, her voice sounded as if she's at a lost but occasionally she appeared in a clear state of mind. Suddenly Yang Lijuan said: "It doesn't matter, it's OK, I have nothing to say", before hanging the phone.
Netizen change the lyrics of 'Lian Xi'
Zeng Yi Ke whom become popular in the Internet after imitate the singing of 15 singers appeared again as she imitate Andy's voice to sing 'Lian Xi Gao Bie Dan Sheng' (Practice to bid goodbye to Single-hood) and send the song to ent.163.com to express her blessing to Andy.
The song is based on Andy's classic song 'Lian Xi' but made changes to the lyrics which narrates the heavenly king bid farewell to single-hood, his feelings about announcing his marriage and expressing a fan's understanding and blessing towards the idol's marriage.
news from: yule.sohu.com, Ming Pao, Wei Wen Po, ent.163.com
---