After returning to Hong Kong, Andy Lau resume work the very next day. He set off from his home around 2:20pm yesterday in his white 7-seater nanny car to his office at Kwun Tong. Andy whom was wearing a white hat and dark green T-shirt alighted from his car and was immediately surrounded by the awaiting 20 reporters, it was a rather chaotic situation as his 4 assistants helped to path the way for him as they hold the reporters to the side.
The reporters asked him questions like if he's more relaxing after disclosing the identity of Carol Zhu Liqian? and when does he plan to get married? Andy just maintained his smile and did not answer.
Around 8:00pm, Andy then left for him as reporters once again rushed towards him, once again he did not answer their questions, he only waved to the media and did not accept any interviews.
Andy did not wanted to comment further on this matter as he had leave comment for those fans and friends that showed concern to him on his personal website around 3:07am on 26 August 2009.
Andy wrote:
I apologize for the chaotic situation that I created when I was at the two airports which affected several tourists and crew member.
Friends from media and newspaper, for the understanding and caring, I can feel the love from everybody, it's being tough for all of you this time round.
At the airport, Mrs. Chow-Leung Suk Yi was affected by the chaotic situation, I apologize to her on behalf of the person that knocked onto her.
"Family members" (Fans) had been supporting me all these while, I can feel it, this time I can see that your love to me is selfish-less and unregretful, some even came to the airport and paid money in order to shield me from wind and rain, I can say truly from my heart: A million thanks.
So we still meet in our dreams???? I take back this sentence, we continue meet in our dreams.
Andy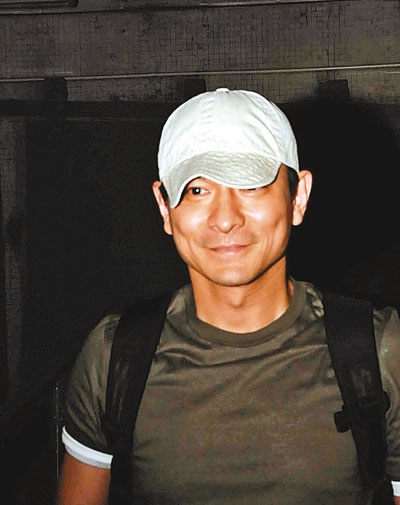 Traffic jam at Andy's website
With regards to his love life, Andy continue to avoid talking about it. Large number of fans wanted to go to Andy World Club website to leave their comments in support of their idol, however the server could not withstand the traffic as they failed to log on to the website.
For Andy's post, millions had visited the site and close to 300 left comments. Most of the fans supported what Andy had done, instead they blamed the media as they should not disturb Andy at this moment asking about his love life. Most of the fans sing praise of Andy was very "man" at the airport as they wish him and Carol to enjoy bliss, some even address Carol as 'Ah Sou' and thank her for her silent contribution in these 24 years.
On the other side, there are also some negative feedback, some fans said that he did not give a proper explanation thus he's still hiding something. Some pointed out that Andy is indeed a Best Actor for the show he had put on, to rescue his name, Carol had been used by him. However, there are also neutral feedback as they think Andy being a public figure, he must prepared for all this.
It was reported in China Daily News that a fan named KiKi was depressed when her idol has "the other half" and left comments on her idol official website: "I'm not that strong, the only way to talk myself into this is death. You will not forget me! I hate you! Hate you for cheating me! Go get married! Bliss! My life will be the present for you!" On reading such comments, other fans urge her "to cherish her life", "be strong" and "use the widest love to accept the truth…"
Such actions from fan made one remember the "Yang Lijuan father jumped into the sea in order to meet Andy" incident, it seems this is the burden why Andy low profile and careful handling of his love life. One crazy fan also committed suicide when Jackie Chan declare his relationship with Lin Fengjiao.
Comments from netizens
– Hong Kong netizens –
spiderman: After being criticize in all major forums, how would he not put up a show!
pj1101hk: Take Jacky Cheung for example, he's still popular after getting married, not sure what's he's scared of what.
fitlow: They were holding hands when coming back to Hong Kong, Mr. Zhu can rest in peace!
~wjb4760~: The problem lies with him neither admitting nor denying!
KINLUNG25: It's better than admitting later than never, he does not have any love allegation all these years, he just wanted to concentrate on his career.
– Mainland China netizens –
female lead in qiong yao: Poor woman. Until this stage. Many years of daughter-in-law become granny. Sigh
7th Malacca: I don't think Carol lost anything, she contributed 20 years, Andy also contributed 20 years. He's by the side of one woman for 20 years, ask around how many man can do that?
– Andy's fans –
AWCALB0845: Seeing both of you holding hands, protecting her, really very man!
AWCCN00579: Really suffer a big shock today, need time to fine tune.
Netizens think Andy will announce his marriage
There is an online survey in Sina.com on whether Andy and Carol will get married , till 7:00pm last night, close to 750,000 netizens voted, 76.4% of them feel that Andy will be marrying Carol and he would announce to public.
With regards to the remaining four heavenly king: Andy, Aaron Kwok and Leon Lai, whom will get married first. 70% voted for Andy, followed by Leon and Aaron. The hardworking Andy whom forgo love now had been said by all to be the first heavenly king to get marry.
Andy's father smile when asked about his son's marriage
Around 7:30am yesterday, Andy's parents came out of their apartment at Kadoorie Hill for a walk. They were walking side by side, when an expressionless Andy's mother spotted the presence of reporters, she started to have some distance from Andy's father. When reporters wave and said morning to Andy's father and asked him whether Carol had a good night sleep or feeling better. He did not answer. With regards to whether Andy will be marrying Carol within 100 days, he just gave a smile.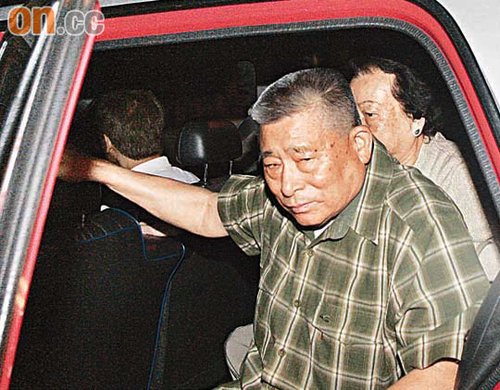 When further question of whether he's more relaxed after Andy come clean about Carol, Andy's father just smile and wave before making an exit. After 2.5 hours, both of them returned back home in a taxi.
Andy and Carol are already married?
A business partner with the Zhu family, Bryren revealed that Andy and Carol are already married.
According to reporter, Bryren said: "I have good connections with the Zhu family, we occasionally will have gatherings, thus basically I know about their things." Bryren told reporters that being a heavenly king superstar, Andy did not want to reveal his marriage is because he wanted to protect his privacy. He did disclose his love relationship before he got famous and many fans are not supportive, commercial companies are also not happy, even the female is affected thus Andy does not want to disclose his relationship with Carol, till marriage, he also kept it as top secret, not only denying and never held her hand in public. Bryren guess that the marriage is not disclose is due to the consideration of privacy as he does not want to be "monitor" by the media.
In addition, Bryren revealed that everyone in Malaysia know that Andy is the son-in-law of the Zhu family but just that nobody disclose to outsiders. Due to the "poor performance" of Andy for Mr. Zhu funeral, the neighbors then express their unhappiness to the media.
According to Malaysian reports, there are still no news of Andy booking any hotel for the wedding dinner, it also show that they are already married. According to Malaysian law, in order to marry a Malaysian woman, she must register her marriage in Malaysia, 2 weeks before the marry date, both parties photographs must be display on the notice board. It makes one think that they never go through proper procedure to get married.
Kent Tong and Michael Miu support Andy
Reporters called one of the TVB 5 Tigers – Kent Tong as he was in Mainland China. He said that he did take note of Andy's news. He said: "It's good seeing them holding hands, feel happy for them, I must congratulate them. Actually whether to disclose is Andy's decision, but Andy does not wish to disclose, but this is the right time to disclose." Although it was alleged that Andy and Carol had got married, Kent said: "For so many years, I never heard from him that he's married, but I support him for getting married now, this will be a happy ending."
Kent sing praise that Carol is a great woman, a 100% 101 marks woman, he said: "I do know Carol, this sort of woman is hard to find and hard to be one, her pressure level is higher than Andy, she rather be the invisible woman rather than the woman by his side." Many people feel that Andy should give Carol a title, Kent said: "It would depend on Andy, hope he could let himself free, let's wish them to be perfect." With regards to netizen criticize handling Carol's father funeral wrongly, he said: "Netizen had their freedom of speech, nobody know what's actually happening as everybody is just looking from the surface." With regards to allegation that Andy had children, Kent express that he knew nothing but according to Andy's character, he would go public and be responsible if he have children.
Michael Miu whom was overseas expressed in a telephone interview: "Disclose is good, feel happy for them, I will give him a call." With regards to allegation that Andy and Carol is already married, Micheal said that he does not heard of such news.
Felix Wong was also being asked about this matter, he said: "You better ask Andy."
Lam Ka Tung whom was one of the artiste under Andy's Focus Films said: "I feel happy for Andy, this proves that Andy is a devoted person in love, it's the same as him devoted to work."
Simon Yam whom have the reputation of a blissful family was attending a Disney activity, with regards to Andy disclosing his relationship with Carol, he said: "It's good for Carol and the family." When asked should Andy declare his love life, Simon did not comment but think that Andy who have a successful career should have a happy family, it's a good thing, he added: "I believe if he had children, they had not been to Disney, I can arrange for him one year free entrance, then the whole family of 3 can enjoy themselves. (It's a family of 4 now?) Not a family of 3? Let me check this out."
Yu Kexin mother stand up for her daughter
In addition, when Taiwanese media approached Andy's ex-girlfriend Yu Kexin about Andy and Carol, she exclaimed that it's none of her business.
When interview by Taiwanese media, she said: "I don't know, I did not keep in touch with him." When asked about Andy marrying Carol within 100 days, she said: "If he feel that it's better this way, I congratulate him."
With regards to Carol willing to be the invisible woman for 24 years, Yu Kexin said: "This is fine, she had everything, I'm together with Andy before, anyway it won't be as tough when I was together with him. Andy can do what he like, none of my business, what can I say?" She added that she had lost her feeling for Andy, "When I hear his name, I can say the word "fear", my life is not related to him, his life is not related to me too."
However, Yu Kexin's mother came out and pointed out that Carol is the third party between Andy and Yu Kexin. When interviewed by reporters, she said: "When Andy and Kexin were an item, Carol is the third party." She added that Andy had "one foot on two boats", because of this Kexin got angry and quarrel with Andy before break up with Andy. Yu Kexin had let go of her relationship with Andy but her mother hold onto it and expressed her view on the Andy and Carol love relationship, she said: "No matter how she stole Andy from my daughter, she finally make it."
She added: "A man should have shoulder, dare to block and not scared of fans." She said that since breaking up with Andy, Kexin does not dare to get married nor have children, she just stayed at home to play with her dog which depressed her, she added that her daughter does not like to get herself in the news.
Tiffany Chen: Andy is not married, the children belong to relatives
With regards to whether Andy and Carol had children because during the funeral, a boy and girl whom resemble Andy and Carol were photographed thus they are alleged to be their children. The Taiwanese media reported that the elder daughter name is Liu Yun Feng, 11 years old, the younger son name is Liu Yun Zu, 9 years old, both of them are alleged to be studying in well-known school. However, friends of Andy all denied that they have children as all these are pure allegations.
ChinaStar vice chairman Tiffany Chen whom was also good friend of Andy said that Andy had long see Carol as one of his family member but they had not register for marriage, "He will announce if he's going to marry, it will not be secretive." Tiffany added that Carol love children, thus she always bring her relatives children by her side, the allegation of them registered for marriage in Canada in 1992 is rubbish.
When asked about Carol being said to be pregnant as she was seen protecting her stomach at the airport, Tiffany said: "This is pure guessing from the media, I have no comment on this." With regards to whether Andy will get married within 100 days, Tiffany said that the funeral had just being completed, Andy and Carol are still depressed, I can just send message to console them not to be too depressed, never discussed about marriage.
When Andy's Taiwan Focus Film was contacted, they did not comment on Andy and Carol holding hands, they said: "This is private matter of Andy, he had already said that he will announce from his personal channel."
Andy is scheduled to fly off to Beijing to shoot music video on 28 August 2009.
news from: Hong Kong Daily, Ta Kung Po, Wei Wen Po, Sing Pao, Sing Tao News, Ming Pao, Oriental Daily News, Apple Daily News, ent.qq.com, ent.163.com, udn news
---