After being photographed attending first seven praying at the cemetery of his "father-in-law", Andy Lau no longer run away from love as around 5pm on Tuesday (25 August), he appeared holding hands with Carol Zhu Liqian at Kuala Lumpur International Airport to catch his flight back to Hong Kong.
After completing the funeral of his "father-in-law", Andy was to board the 6:45pm MH0074 and transit Cathay Pacific CX1724 flight back to Hong Kong. When Andy whom was wearing a white T-shirt, jeans and face mask appeared, everybody thought that he would be alone, unexpectedly Carol is with him, holding hands with fingers locked, it seems that Andy is using action to officially announced their relationship.
When Andy and Carol arrived at the airport, both of them were holding hands, when the awaiting media got near to them, assistants walked beside them to block them as they tried to walk to the VIP guest room, the media chased after them.
When reporters asked Andy: "With the news leaked, will you be giving Carol a title?" Andy and Carol did not give any answers, media took photographs and shouted beside them, instead Andy gave them an angry glare.
When they reach the airport, they immediately walked towards the VIP guest room, it took less than 3 minutes, the alleged son and daughter are not sighted, maybe they would not like their children to be revealed or possible that they would arrange their children another flight back to Hong Kong.
It's said that the airport's VIP guest room had to be reserved in advance, the room was booked by Andy's sister-in-law. According to sources, whenever Andy is in Malaysia, he would use the VIP guest room, with regards to reservation by which name is unknown.
Around 10:35pm, Andy and Carol's flight landed at Hong Kong International Airport. Both of them were still wearing the same white T-shirt with Buddha bead bracelets on their hands as they hold hands to walk out together.
Large groups of media had been waiting for them. Initially they supposed to come out from the gate B, but they chose to come out from gate A which is nearer to the car park. Security company Staneley Term open the way for them.
When Andy appeared, the media immediately rushed towards them resulting a big commotion where reporter fall down as Andy kept apologizing to reporters.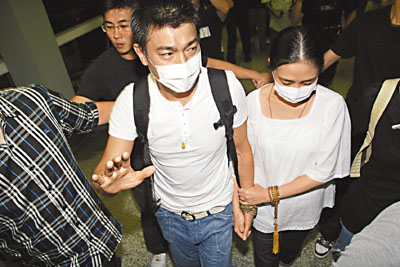 Andy was holding onto Carol's hands as he tried to protect and prevent reporters from knocking onto her throughout their walk. Carol was seen protecting her stomach, with her looking rather plumb, it makes one think if she's pregnant.
Some reporters asked if Andy is declaring his love life, Andy did not give any direct answer, but appearing and holding hands with Carol in public seems to admit his love relationship with Carol. When reporters asked Carol if she had recover her emotion, she did not say anything but stay close to Andy as he said: "Nothing special to talk about, many thanks to everybody's concern, you can think whatever you wanted to think, I also don't intend to explain any further, currently I just want to bring her home to rest, I'll tell all of you at a later date."
It took more than 20 minutes for Andy to reach the car park. Along the way, a reporter knocked down the luggage of a fellow tourist, Andy immediately tell off the reporter and helped the tourist picked up her luggage and apologize to her before boarding the nanny car.
Reporters were also waiting outside Andy's apartment at Kadoorie Hill in hope to get photographs of Andy and Carol entering their apartment. Around 11:00pm, Andy's parents reached home in a taxi. When reporters approached them to ask their opinion on their son declaring his love relationship with Carol, they did not comment and immediately make their way into their apartement.
Carol's father passed away at the age of 73 years old last week, when news of Mr. Chu death came out, media had been waiting outside the Zhu residence at Bukit Jalil.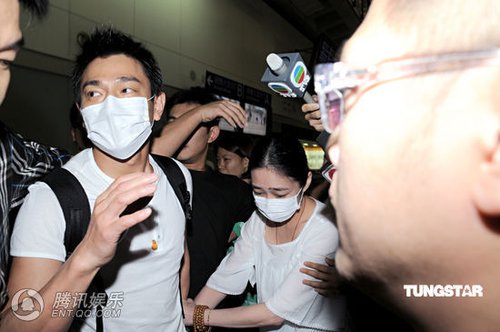 Being tagged as "Malaysia's son-in-law", Andy accompanied Carol back to Malaysia for her father's funeral, but Andy did not show up at the funeral. Being chased by media, Andy finally revealed himself at the first seven praying ceremony.
It had been a mystery relationship between Andy and Carol for some 20 years, since they know each other in 1986, fall in love to become the invisible woman behind Andy's back, their love relationship was kept low profile for more than 20 years, no photographs of them together. It was once alleged that they got married secretly in 1992, have children in 1996, but Andy had denied everything although their relationship had been an open secret. In February 2009, they were photographed together for the first time as allegation that Andy is prepared to marry 43-years-old Carol, when the news leaked, the wedding was postponed.
news from: yule.sohu.com, ent.hunantv.com, ent.163.com, ent.qq.com, Apple Daily News, Oriental Daily News, Liberty Times, China Times, udn news, Hong Kong Daily, Wei Wen Po
---