Carol Zhu Liqian father's funeral was held yesterday, it was alleged that "son-in-law" Andy Lau will be attending the funeral, but he did not make an official appearance. However, it was reported in Sinchew Daily, when the coffin was moving out of the Zhu residence, friends and relatives were all carrying huge umbrellas. Under the sea of umbrellas, a male resembling Andy was spotted.
For 24 years, Andy did not give any title to Carol, outsider think that Andy would this timing of the funeral to "acknowledge" Carol. However, the Zhu family came up with tricks to stop reporters, looked like he still does not wish to disclose his relationship with Carol.
According to Sinchew Daily reports, although the Zhu family came up with a "sea of umbrellas" to protect Andy, but reporters still claimed that they could see Andy because of his trademark nose, but the person was surrounded by bodyguards. Someone also managed to spot the pair of sports shoes that Andy was wearing.
There was also sources saying that after the funeral team had left the residence for about 1km, several cars and buses came to pick up the friends and relatives, Andy initially thought of boarding a gray BMW but the reporter forced him to get up the bus instead. When reporters tried to take photographs, the Zhu family had an argument with the reporters which resulted in a big commotion, thus unable to confirmed that the male is Andy.
The Malaysian media pointed out that people don't usually carry umbrellas during funerals, with the Zhu family carrying umbrellas, this is a huge sighting in Malaysia. Although Andy did not make an appearance, a makeup-less Carol whom was wearing white did sent off her father for the last time.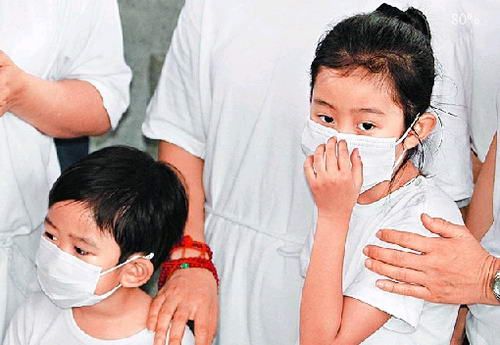 At the funeral, there was a little boy around 5-years-old whom was wearing a mask resemble Andy in the eyes and ears thus making him a "mini Andy Lau", this made one thinks that he's Andy's son. There was also a little girl whose looked like Carol Zhu Liqian. The media suspected that they are Andy and Carol's children.
news from: China Times, Liberty Times, udn news, Wei Wen Po, Ming Pao, Apple Daily News, yule.tom.com, ent.qq.com, ent.163.com
---