With a budget of close to $2 billion, New Shaolin Temple which will be directed by Benny Chan kept having news of the cast, Andy Lau, Jackie Chan and Jay Chou joining and Jet Li returning to Shaolin Temple had been ongoing. Currently when attending a music concert, Andy revealed that he had not signed the contract but the chances of joining the cast is high. When reporter telephoned director Benny Chan, he expressed that he's currently busy shooting City under Siege, with regards to the allegation of many superstars joining the cast, Benny expressed: "It's impossible to have so many megastars."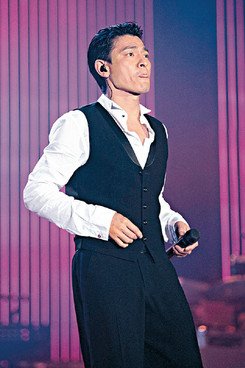 However, Andy did confirmed that he has an upcoming film project, that is joining the cast of New Shaolin Temple as he said: "I've been discussing this project for one year, in the film I'll be the son of a warlord, I'm good at using the spear." Andy also added: "From what I know, there will be no Jet Li."
It is said that this son of warlord lead a group of people to Shaolin Temple to arrest criminals but a senior monk came out to stop him, but he ignore this senior monk and went on to search for the criminals in the temple, they finally broke into a fight. Jet Li is alleged to be cast as the senior monk. As the final script has yet been finalized, but Andy's character seems to be a villain. It is also alleged that Jackie Chan will cameo for the film for a few days, he will be a Shaolin Temple general.
When told of what Andy had said, Benny is delighted but added that many things can be changed, the characters in the film could be changed. With regards to Jackie Chan, Jay Chou and Jet Li, Benny express that details are discussed by Emperor Group, he's unsure of the concrete details, he said: "From the commercial point of view, of course I hope that it will be a star stubbed film, but it's impossible to have so many superstars."
In addition, Benny expressed that he would not be adding too much special effects as it will be mostly fist-fighting kung fu to bring out the original Shaolin kung fu.
news from: ent.qq.com
---