After welcoming "Empress Wu Zhetian" Carina Lau, director Tsui Hark had started to shoot the day scenes for the movie Detective Dee. Reporters rushed to the shooting venue in Hengdian, the crew was shooting the scene of Shang-guan Er (Li Bingbing) bringing out Di Ren Jie (Andy Lau) whom was just released from prison at Qin Emperor Palace. With his hair covering his face, moustache not shaven, he was in a dirty and unkempt state. "This is the image of Di Ren Jie just released from prison" Andy introduces: "Too hot ….."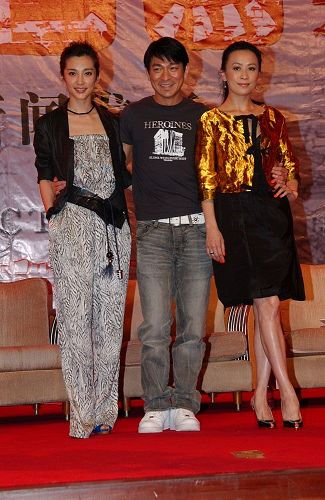 From what can be seen, Empress Wu took good care of Di Ren Jie as he was asked to sit beside her, but Di Ren Jie think that he would be returning to the prison, thus he did not wash up before meeting Empress Wu. Director Tsui Hark arranged to shoot the scene between Empress Wu and Di Ren Jie. It can be seen that Di Ren Jie said something to Empress Wu softly, Empress Wu turned her head to one side as though she does not wish to listen to what Di Ren Jie is saying. After a while, Empress Wu said: "You guessed wrongly this time." She then stood up, looking straight ahead and said: "I'll agree to your request only you managed to break the burning corpse case!" Di Ren Jie then stood up and walked towards the imperial guards and said something to them. Empress Wu then flagged her sleeves, turn around to draw out the imperial sword. That's the end of the scene.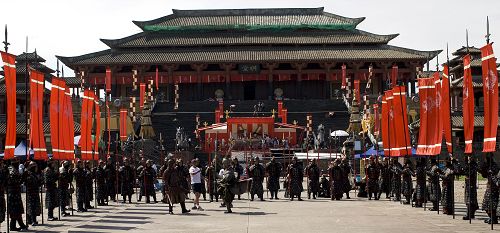 The shooting venue is very popular. The high tower that Empress Wu seated is built on the ground of Qin Emperor Palace, the staircase had Jet Li and Chen Daoming walked in Hero, the execution ground of Sanada Hiroyuki in The Promise, also the Heavenly Palace in Forbidden Kingdom. For the shooting of Detective Dee, Tsui Hark did not make much changes to the palace, he just added a "ming tang" board at the grand hall.
At this current stage, the story and character image are in the "secret" status. Carina refused to be interviewed due to her complicated head gear, Andy and Li Bingbing expressed their view on the image of Carina. Li Bingbing whom also was wearing multiple layer of clothing said: "It's tough for Carina." Meanwhile, Andy quipped: "Initially my wig is not so unkempt, but after several different images for Carina, lastly this is decided ….." Andy describe his huge wig and said: "In order to make the scene more accommodating, my hair was also being styled to be so unkempt…"
Among the three actors, Andy's "prisoner look" seems to be the most relaxing, but he still complain of shooting period movie in hot weather, he said: "When you see that this outfit is the most thin, there are still several other costumes which is thicker than this." Andy did joked and complained: "In future, I would not be involved in period shooting between April and August!"
news from: xinhuanet.com, yule.sohu.com, sina.com
---