Directed by Tsui Hark, the movie Detective Dee held its Asian press conference at Hengdian yesterday. Tsui Hark lead the cast which includes Andy Lau, Carina Lau, Li Bingbing and arts director Sammo Hung.
At the press conference, Tsui Hark revealed the story for the first time as he exclaimed that Andy will have a complicated love relationship with Carina's Empress Wu and Li Bingbing's Shang-guan Er.
Andy added that he had acted many characters whom are well-verse in martial arts and knowledgeable, but for this Di Ren Jie, the difference is that he has the ability to look through people's heart, know what a person is thinking, one look and breathe could not hide anything from him.
When collaborating with two beauties in Carina and Li Bingbing, Andy was asked whom would he have love relationship with? Andy quipped: "I'm a "lecherous" Di Ren Jie, I talk love with every female, but they refuse, there is plain love relationship in this movie, he loved many people, love Bingbing secretly, because he feel that she's like Hua Mulan. I loved her character because it's a good girl. I also wish well for Empress Wu but I do not like her cruel punishments, thus I admire and scared of her."
Andy revealed that other than reading up information about Di Ren Jie, he would also watch related TV dramas. When it was said that Andy is the slim version of Di Ren Jie which made people question. Andy rebuked that there are handsome and young Justice Bao, take Sammo for example, he's also very thin when he's young, so what's wrong with slim version of Di Ren Jie?
Andy was asked about reports that he complained of the tough action scenes thus look for body double, he said: "I earned my hardworking tag, the director had asked me to take it easy and not think so much. When the director and film company approached me, they feel that I'm a box office draw, thus I'll do my best during shooting. The character in this movie used brains rather than action, but the director also wanted to take care of overseas market, thus adding some action would enhance the movie, one third of the movie will be action, I'll do my best." Andy also show off the scars on his shoulder and hands.
Andy pointed out that Tsui Hark wanted to collaborate with him several times, and he finally get to collaborate with him, he said: "In the past 8-10 years, he did approached me for collaboration but during that time I'm shooting films by ChinaStar and Media Asia, I've more freedom now thus I could collaborate with Tsui Hark as I don't have any film contract restriction."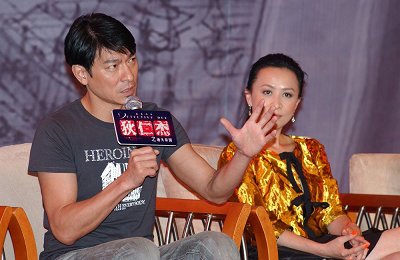 Andy revealed that he told Tsui Hark that he could shoot 007 movies, never expected that he's shooting Detective Dee which is a combination of 007 and Sherlock Holmes, thus Andy accepted when Tsui's offer comes, but he stressed that he would not be wearing any head gear, he said: "Because I don't look good with head gear, short hair can be extended to make it long, I never knew that I need to stick on moustache, it made my movements un-natural and difficult when eating."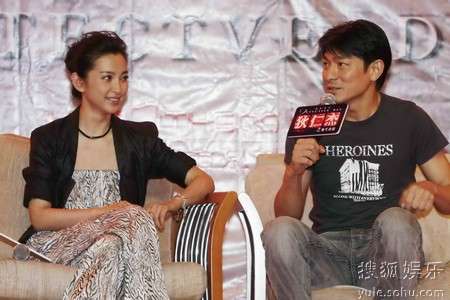 The reporters discovered that Andy and Sammo kept the same moustache. With regards to this, Andy quipped: "I keep this moustache first, he find it cool thus he followed me." Andy then added: "I feel that he looked like my father, every day at the shooting site, he would force me to eat and tell me not to be too thin."
According to Andy, he would be working on two new films after Detective Dee, one of them is a collaboration with a new director, another film will be about Shaolin Temple, collaborating with Benny Chan, Andy stressed: "I'll not be a monk in the movie."
Li Bingbing whom just came back from Italy after a 16-hours flight quipped that the Di Ren Jie acted by Andy would be something like "superman" because he's handsome, highly skilled in martial arts, a person beyond perfect!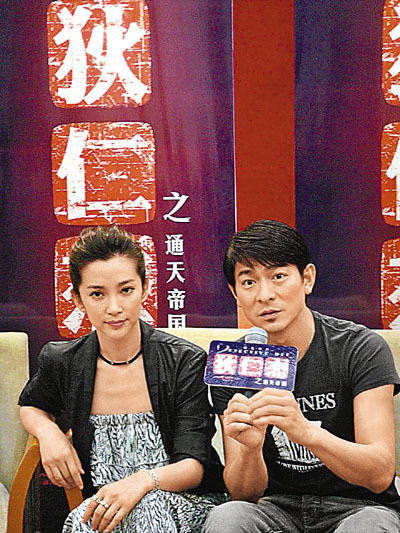 This is the third time Li Bingbing collaborate with Andy, whenever they see each other, they will be fighting. However, the chemistry is not there as when they initially start shooting the fighting scene, Andy will suffered "beating" from Li Bingbing because when he wanted to make joke with Bingbing while she was practicing, he would got hit by her tied hair. Thus, whenever Bingbing started practicingm Andy would warn everyone: "Everybody be careful, Li Bingbing came out to practice." Upon listening, everyone burst into laughter.
When asked about comparing "Hong Kong role model" Andy and "Mainland China role model" Li Bingbing, who is more hardworking? Both burst into laughter as a modest Andy said: "We're the same." Li Bingbing expressed: "Role model learn from role model, Andy is a fighter, he's the role model, saying he's an idol is not enough."
There were 3 chairs prepared in the interview room, however both Andy and Li Bingbing shared the same chair. There were continuous news that Andy is getting married this year, he was asked this question at the press conference, Li Bingbing came out in defend by saying: "This is the saddest news to me." Andy immediately joined her: "Bingbing, I'm not married!"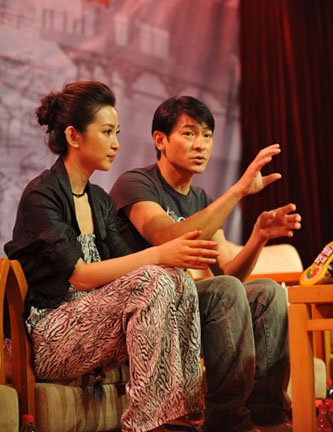 When asked if he get married in Detective Dee, Andy expressed: "From I know I don't get married in the movie, maybe it's the same with me because I'm not married!" The reporter continued to ask: "Di Ren Jie is already so old and with such high status, why is he still single, is this normal?" The female reporter whom asked this question spoke softly when she reached the word Di Ren Jie, clearly she's asking Andy.
Andy did not answer this question but pretend to be angry as he quipped: "Are you playing with me?" He then placed the microphone on the table before being escorted off the venue accompanied by crew members.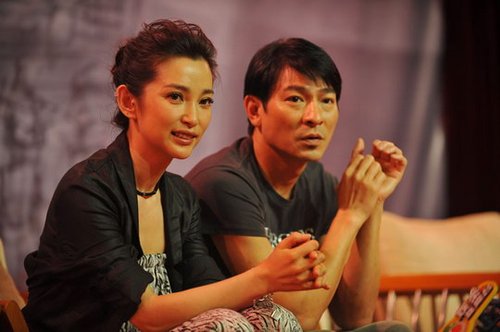 news from: Sing Tao News, Ming Pao, Apple Daily News, Wei Wen Po, Headline Daily, udn news, Ta Kung Po, Sina.com, yule.tom.com, ent.qq.com, ent.163.com, yule.sohu.com, ent.hunantv.com
---