Reporter found out from Andy Lau's management company in Mainland China that his two sons Andox and Box became target for pirated manufacturer.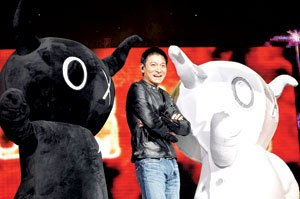 An Andy fan from Xi-an, Mr. Gao recently bought some Andox-Box products from the internet, he later found out they were pirated products. This angered Mr. Gao and he contacted the internet company to refund his purchases, he also made a call to Andy's management company hoping that Andy could come out to control the copyright.
The spokesman of the management company revealed that Andy who was currently location shooting in Hengdian is very angry. Andy expressed that he's supportive to protect the copyright for fans that bought pirated products, he also wanted to protect the copyright for his "sons". In order to prevent fans from purchasing pirated products, Andy reminded fans that products of Andox-Box had not been released in the Mainland China market.
In addition, limited produced products of Andox and Box can be purchased at Andy World Club. With regards to the Mainland China market, discussions are on-going with different factories.
news from: Sina.com
---